Store Employees Become the Face of the San Luis Obispo County Plastic Bag Ban
San Luis Obispo Just Says "NO" to Paper AND Plastic
The San Luis Obispo County Integrated Waste Management Authority passed an ordinance back in January that banned disposable plastic bags in most retail outlets, specifically supermarkets, pharmacies, sporting goods retailers, and convenience stores with more than 10,000 square feet of retail space. The fine print also calls for a 10-cent fee to be levied on paper bags. It is hoped that the fee will also deter shoppers from using paper bags and go all the way to eco-friendly with reusables. Shoppers are encouraged to bring their own reusable grocery bags to carry their purchases home each and every time they go shopping.
Education Helped Prepare Residents for Bag Ban
Leading up to the ban, Patti Toews, program manager for the Waste Management Authority, visited every store impacted by the new ban to make sure they understood how the ban would affect them and answered any questions store employees had. Toews felt that taking the time to visit stores and review the law and making herself available by phone to answer additional questions after folks had time to think about the ban was pivotal to the law's success.
Store Employees Become the Face of the Ban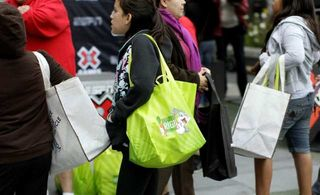 Store employees are the ones who have to tell customers plastic bags are not available, and they are often the ones shoppers will seek out when they have questions. By educating store workers, Toews empowered them to do their job correctly and to help shoppers. Toews also placed signs in stores alerting shoppers to the impending ban. These signs featured her contact info so residents could reach out to her with questions and concerns.
They are taking the time to talk to people and answer questions made the transition much smoother. A ban can be imposed on folks because plastic bags have become a standard part of modern life. Making the switch to reusable grocery bags is a relatively minor action, but it can impact consumers every day. Answering questions and talking things through with residents and store employees can eliminate concern and anxiety and help lay the groundwork for a seamless transition.
One Week Into the Ban and Folks are Still Forgetful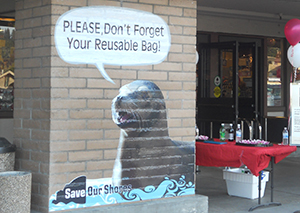 The people of San Luis Obispo County have had one week to live with the new ban, and as would be expected, the reviews are mixed. Most people still support the ban and understand it will take time to get into the habit of bringing reusable shopping bags when they shop. Others have expressed frustration after realizing they forgot their reusable bags – this is to be expected, and it just takes time.
Many people have also found it tricky to remember which stores to bring their reusable bags to – this turns out to be a bit of a trick question since most stores, including department and hardware stores, are now prohibited from handing out plastic bags. All the more reason to use get in the habit of using reusables everywhere.
Habit Will Kick In and San Luis Obispo Will Be Living Green
Making it a habit to use reusables at every store makes going green with reusables a habit consumers will get the hang of, feel good about, and never forget again. In a few more weeks, people will find they forget their reusable bags less and less. Soon enough, in a few months, people may have a hard time remembering what shopping was like before the plastic bag ban was a part of living green in San Luis Obispo.
Read more about San Luis Obispo County's ban at https://www.sanluisobispo.com/news/local/article39424434.html
Tagged