The 100 Top Green Online Influencers of 2012: Inspiring by Example

Top Green Online Influencers – Motivating and Encouraging Consumers and Business Leaders to Follow Their Green Lead
The Internet is full of blogs and businesses promoting their brands and ideas while spreading a message of sustainability and environmentalism.  The problem is that it can be tricky figuring out which people and web sites offer the best of the best of green news that is necessary for you to know. Well, don't worry because factory Direct Promos has done the hard work for you.
Factory Direct Promos has searched the Internet, sifted through online social statistics, and come up with an outstanding list of the 100 Top Green Influencers of 2012. We rank the people that made our list as the best at motivating and encouraging consumers and businessmen and women to follow their green lead at home and at work.
Find Your Green Inspiration
From cutting edge environmentalists and sustainable business leaders to DIY eco-friendly crafters and healthy moms, there is a little bit of green inspiration for everyone on the Factory Direct Promo's green influencer list.  Our green influencer award winners are a fantastic round-up of green online influencers who do not just tell their followers how to live a green lifestyle and make eco-friendly choices, but they actually do it themselves – every day.  Inspiring by example, our winning green online influencers show people that living and working green can be done.
You Can Live and Work Green Too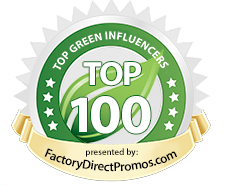 Many of the winning influencer's web sites are brimming with tips for how to live a green lifestyle, but they offer so much more than what ingredients to keep an eye out for when purchasing cleaning products or how to work green practices into your business model. Our green influencer winners offer green motivation and lead by sustainable example.
Anyone can easily dictate how you should do something, but these winning green influencers coach readers by sharing both the ups and downs of their own green journey at home and at work.  The Factory Direct Promos Top 100 Green Online Influencers offer real-life, green living and working examples that you can follow and feel good about.
Meet the Influencers
You can meet all 100 of the Factory Direct Promos Top Green Online Influencers of 2012 and see if your green favorites made the cut.  Then, feel free to go through some of the names you are not familiar with to learn about the efforts and achievements of the best of the greatest newsmakers in green.  We are sure you will find some new green friends and mentors and pick up some new ideas and tips to help you live and work more sustainably.  And by the way, feel free to leave a comment below and let us know who your favorite green online influencers are.