Massachusetts Bag Ban Bill H 2121. What YOUR Business Needs to Know Now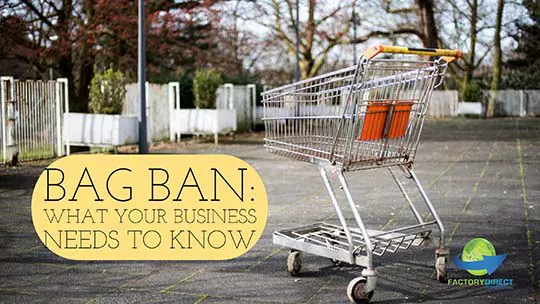 Preparing for Plastic Bag Bans
Plastic bag bans are growing throughout the world and now is the time to get ready because a bag ban may be coming to Massachusetts. Both residents and businesses will need to adapt to this new law. In a 13-1 vote, the Senate approved the Massachusetts bag ban known as H 2121, and referred the proposal to the committee on Environment, Natural Resources and Agriculture. If approved, this would not be the first time a statewide bag ban has gone on the books as Massachusetts would join the ranks of the California bag ban.
Specifics of the Massachusetts Bag Ban
If implemented, the Massachusetts bag ban would prohibit stores from handing out single-use plastic bags. Retailers could sell paper bags made from recycled content or reusable bags. Money collected from the sale of recycled paper bags or reusable bags will be kept by the business. If the Massachusetts bag ban becomes law it would go into action on August 1, 2019.
History of Massachusetts Bag Ban
Statewide plastic bag bans have been discussed a few times in the Bay State, but H 2121 is the furthest such a proposal has advanced through the state government. In the meantime, many cities and towns in Massachusetts have opted to implement their own plastic bag bans. With over 60 bag bans in place throughout the state, that means about 30 percent of Massachusetts residents have experience with bans. The statewide ban will be new territory for the remaining residents.
Benefits to Businesses That Market with Reusable Bags
As marketing tools, consumer research continues to show that reusable bags have a lot to offer in addition to excellent marketing ROI. From creating a solid rapport with your customer base, to effectively increasing your brand's awareness and recognition to delivering a great and lasting value, businesses have a lot to gain through marketing with reusable bags.
Thoughtful Promotional Products
The Massachusetts bag ban will create a need for reusable bags. Shoppers will need durable, reusable bags to take the place of the single-use bags no longer allowed. Creating customized reusable bags to sell on your website or in your brick and mortar location, or even to give away will increase the recognition and awareness about your brand. Choosing to provide useful items that meet a need and serve a purpose for your customers will endear your brand to them.
Eco-Friendly Marketing
Like most bans, the Massachusetts bag ban proposal came about as a response to environmental harm caused from disposable plastic bags. Our reusable bags are made from sustainable or recycled materials, making them eco-friendly. Whether used in response to a bag ban or simply due to an individual's stance on green issues, custom reusable bags are eco-friendly. Our reusable bags are promotional products that fill a need and live up to the green goals and standards established by a ban.
Great Return on Investment
The value of reusable bags as promotional products lies in repetition. Custom reusable bags work like a sign your customers can carry to promote your brand. Over time your customers will become more familiar with the message on your branded reusable bag, but they will also spread the word to people they encounter. Reusable bags typically last for several years. Ultimately, how often the bags are used and how they are cared for will determine how long they last. During that time one custom reusable bag can deliver thousands of impressions.
Let's Create Your Next Promotional Product
Stay tuned to learn about developments with the Massachusetts bag ban. If the Massachusetts bag ban is approved there will be an increased demand for reusable bags throughout the state. With the individual city bans in place there is still a strong bag ban sentiment in Massachusetts, and custom reusable bags are always effective promotional products. Learn about the design and ordering process and contact Factory Direct Promos for a quote or samples now!
Tagged