How to Increase Leads at Your Next Tradeshow with a Custom Reusable Bag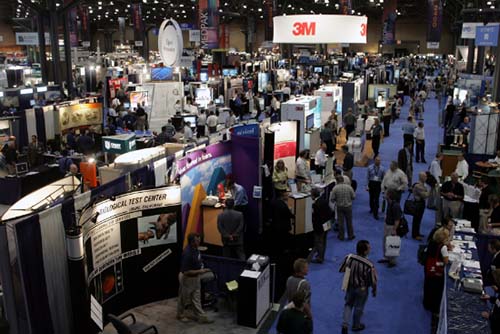 Want to Increase Leads at Your Next Tradeshow? Here's How We Helped A Client Do Just That
Tradeshows are a great opportunity to connect with your customers, forge relationships with prospective customers while garnering leads, but you need an "in" to start a conversation right? As crazy as it sounds, custom reusable bags are the perfect way to engage with your customers and increase leads at tradeshows. Reusable bags are very popular at trade shows, obviously, but a customized bag will get your brand a ton of exposure. Here's how.
Create Something Memorable
We had a longtime client at FDP that had ordered bags from us many times and were very happy with their marketing impact at tradeshows. Still, they wanted to create a really big buzz at an important tradeshow so they worked with Beth Wilkerson, our Production Manager, and came up with the idea to create something custom and outside of the box. They wanted to create something different than they had done before and offer something special that would draw attendees to their booth. Beth and the client put their heads together and decided that a really large, metallic custom bag would be unusual and something that their particular demographic at the show would want to get their hands on. The custom bag turned out to be a huge hit with attendees.
Make Your Booth a Destination
The large size made the bags desirable, and the metallic material was eye-catching and on point for attendees – both of these traits made other attendees take notice and generated major interest in our client's booth. Immediately, their booth became a popular stop. Prospective customers sought out our client's booth to get their hands on "the bag" everyone was buzzing about, and it was a great traffic generator at their booth.
Getting people in your tradeshow booth is huge. In this case, people came for the bag and once they were there, our client's staff was able to engage them in conversation. A sales pitch is only effective if there is an audience, and this custom reusable metallic bag ensured there was an audience.
Use Your Custom Takeaway to Generate Leads
The custom reusable bag was a great success for their brand on many levels. Due to the increased traffic at their booth and the ease of starting a conversation with their prospects about the cool bag, they were able to generate more leads than ever at the show. Additionally, those custom bags are still marketing our client's brand in an eco-friendly manner without any extra effort.
This idea would work great with any of our custom reusable bags from our drawstring bags to a full color bags. Work with us and we will help you develop a custom reusable bag that will create buzz with attendees for your brand at your next tradeshow.
To get started fill out this form or give Beth a call at 866.222.0949 and we can help you create a buzz and increase leads for your brand.
Tagged