Hosting a Hybrid Event? Check Out This Checklist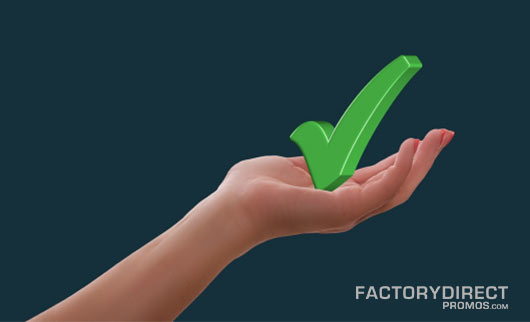 Stay On Task with THIS CHECKLIST to Find Success with Hybrid Events!
Hosting an event in any form requires a lot of planning. There are a lot of details and things to be taken into consideration if you want your trade show or other business event to be a success.
Our friends at Trade Show News Network (TSNN) shared a checklist for hosting a successful hybrid event in a beneficial download.
We know that a lot of our clients are doing hybrid events right now and had to share.
Find out how this checklist can simplify the planning for your next hybrid event and what we can do to help your event be memorable and effective.
What is a Hybrid Event?
We have been writing a lot about hybrid events and in fact, we recently wrote a piece about the best eco-friendly promotional gifts for hybrid events.
Hybrid events came about in response to the Coronavirus pandemic.
With people unable to meet in person, many trade shows, conferences, and seminars became virtual events. Events held online that people could log in to attend became the norm during the pandemic.
While things are starting to open back up, many people have found virtual events to be beneficial beyond preventing the spread of the virus. Attending events in person is time-consuming and carries a financial expense. Logging into an online meeting eliminates the travel component and can save a lot of time and money.
Now virtual events have led us to hybrid events.
There is value to attending events both in person and virtually and hybrid events give people the option to do what works best for them and accommodate their comfort level.
Hybrid events allow attendees to be there in person or to take part online.
What hasn't changed is that people can still connect and engage in a meaningful way and forge important business relationships.
Understanding the Checklist
The checklist put together by TSNN covers everything necessary to host a successful event.
From the budget and marketing to registration, lining up both speakers and sponsors, logistics, hygiene, AV needs, and more, this comprehensive list is a valuable tool.
Working through the list will ensure you are able to host an effective event that brings industry members together and helps propel everyone forward.
We Can Help
When it comes to hosting hybrid events, our clients are finding that they can make an even greater impact than they might have imagined by sharing eco-friendly promotional gifts.
Eco-friendly, promotional gifts can be offered as an incentive to encourage early sign-up for the event. You can also send a special promotional gift to commemorate the event after it is over.
Promotional items help generate excitement and increase engagement. Sending attendees whether they are in person or virtual a promotional gift instills a sense of normalcy while also providing all the benefits of promotional items.
Attendees will have a useful, eco-friendly gift they can use long after the event is over. Your custom branded promotional product will be a constant reminder of your business. As you create walking billboards of your hybrid event attendees, the gift will spread your branding message to a wider audience.
Industry Leader
We want to help you create a custom promotional product to use at your next hybrid event.
We've been helping our customers, including American Express, Bank of America, Carnival Cruise Lines, Pepsi, The Home Depot, Whole Foods, and more create completely unique reusable items for over a decade.
We hold ISO certification and are one of the largest companies in the promotional product industry in the nation.
We use all of this experience to help all of our clients create the right promotional product for their brand.
Contact us today or reach out at 866-222-0949 and get the help you need to create the perfect customized, eco-friendly promotional gifts for your next hybrid event!
Tagged