5 New Year's Resolutions for A Greener Work Day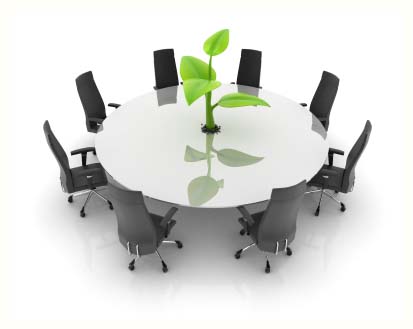 Go Green In 2016!
Making the workplace greener is a common goal, and it's a good goal. Green changes help the planet and can even make the workflow more efficient and even more enjoyable. The New Year is always a time for evaluating the past and looking towards the future, so we decided to put together a list of 5 ways you can make your workplace greener in the New Year.
5 New Year's Resolutions for A Greener Work Day
Ready, Set, Recycle! – Start a recycling initiative at the office. Get bins and place them where people are most likely to need them. Containers to collect plastic, glass and metal are popular in workplace kitchens, while paper bins should be distributed near printers and existing garbage cans. Make sure the recycling bins are clearly labeled, so everyone knows what goes where.
Get a Break…a Tax Break That Is – Do a quick search of "tax breaks for business going green in 2016," and you will find a myriad of ideas on how to get a break on your business tax bill by working greener. Help the planet and your bottom line all at once.
Hey Buddy, Can I Grab A Ride? – Carpooling is a great way to not only get to work greener, it also is a great way to save money. The fewer vehicles on the road means less carbon emissions, and even less wear and tear on your vehicle if you share driving responsibilities. As an added plus, many cities and states offer carpool lanes if you have multiple people in your vehicle, so you will be able to bypass a lot of traffic.
Market Greener! – Getting your name out there is key whether you are building your brand or just maintaining your company image. We would be remiss if we did not mention creating a custom reusable bag in 2016 to use for your marketing efforts way beyond this year. Reusable bags come in so many different shapes and sizes, and we offer the ability to completely customize your branded bag for something that is eye-catching and will get your brand noticed. Reusable bags normally deliver several years of use, so this year's marketing expense will be paying dividends many years from now.
It's a Team Effort – Get your coworkers involved in coming up with ideas on how you can join together to work greener in 2016. When you seek suggestions from the group you will get more diverse ideas, and it's very likely there will be some suggestions you may never have thought about. Another perk of seeking counsel from the team is that the group will be more apt to get behind their team member's ideas and embrace the change.
These changes are simple, so they're easy to put into place. Even if you just pick one of two items from this list that will have a positive impact. Have you implemented any of these green changes into your workplace? Do you have suggestions for other green changes you can put into place where you work? Hit us up in the comments or on social media!
Tagged