10 Reasons Your Brand Should be Marketing with Custom Business Bags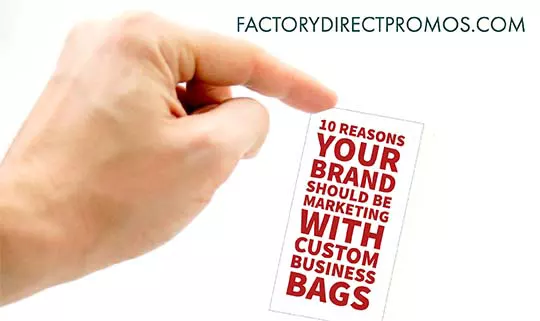 Find Out What Custom Business Bags Can Do For Your Brand
Custom business bags are versatile. They make great marketing tools that will increase your brand's awareness and recognition, while also making it possible to promote your brand and align with your company's green goals. If you're still not sure about whether you should add custom reusable bags to your marketing lineup, here are 10 reasons why you should consider making this move.
In the U.S. approximately 100 billion new disposable plastic bags are used each year. This works out to between 350 and 500 single-use plastic bags per person per year. This confirms there is a need for shopping bags. Creating custom business bags will give customers a bag they want and need while also promoting your brand.
Disposable plastic bags are likely to end up as litter. Over 10 percent of the trash that washes up on U.S. coastlines is single-use plastic bags. If tossed in a landfill or recycling bin, they can easily be lifted and carried off by the wind and deposited in rivers, other bodies of water, or trees. Giving your clients custom reusable bags reduces the need and use of single-use bags which reduces the number of bags that end up polluting waterways and other areas.
Countries all over the world, and even states, counties, and cities in the U.S. have banned or levied fees on single-use plastic bags. This creates an increased demand, awareness, and use of reusable bags.
Custom business bags are just that – custom. A variety of styles and sizes makes it possible to design a unique bag that will showcase your branding message and serve as a useful and functional bag for customers.
When your clients use your custom business bags, it will remind them about your brand and reinforce your marketing message.
When your clients use your custom business bags, they will spread your branding message to everyone they encounter for many years. Friends, family, coworkers, and even other shoppers will be exposed to your branding information.
More and more grocery stores are offering shoppers who bring their own reusable bags a discount that is typically 5- to 10-cents per bag. This is a great incentive for your clients to use your custom business bags.
It comes down to how often the bag is used and how it is cared for, but on average a reusable bag will last for 3 – 6 years. Your custom branded bags will deliver the highest number of impressions compared to any other form of advertising to deliver the best ROI.
When a reusable bag is made from recycled or sustainable materials, it can be recycled when it wears out. This means your branded marketing tool can be responsibly disposed of and will not have a negative environmental impact.
Reusable bags are gaining in popularity. Plastic bag bans are creating an increased need and demand for reusable bags. But even in areas without bans or fees, people are opting to use reusable bags. If people are going to use reusable bags, they might as well be using your custom business bags and promoting your business at the same time.
Get Started Designing Your Custom Business Bags
Marketing with custom business bags makes sense for your brand and consumers, too. People love reusable bags and in turn, will love your brand. Put the power of custom business bags in the hands of your customers today by creating your very own reusable bags. Contact Factory Direct Promos to build valuable relationships and turn your clients and prospects into walking billboards.
Tagged