5 Reusable Bags for Every Summer Situation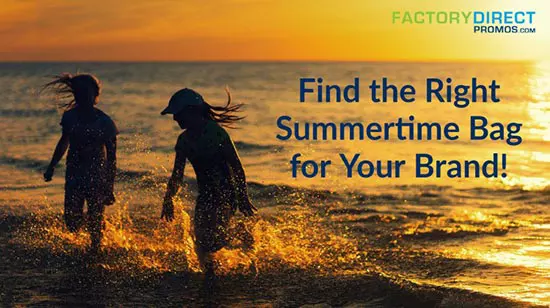 Easy Summer Marketing Ideas
For many people, summer is about fun and relaxation.
As people head out to various destinations, they need a way to carry different items, whether that be towels and sunscreen, snacks, or even fruit and vegetables picked up at the market.
This provides a great opportunity for your business to help your customers while also helping spread the word about your brand.
We previously shared six ways to use your reusable bags this summer for marketing and now we wanted to share some specific bags that we think are perfect for summer activities.
1. Drawstring Sports Backpack
Heading to the park, gym, amusement park, or wherever? The drawstring sports backpack has your customer's backs and makes it easy to carry the gear they need.
The lightweight fabric is comfortable and will not weigh your customers down as they wear the bag while the interior compartment is big enough to fit the essentials.
2. Insulated Cooler Bags
Summer picnics are a great way to connect with friends and family and these insulated cooler bags  will keep items chilled until it's time to eat. The dual handle design and bottom insert allow for easy carrying.
While these cooler bags are definitely great for picnics, they also make excellent grocery bags and can keep frozen items cold until your customers get home and can put things away.
3. Custom Wine Bags
Make it easy for your customers to carry home their purchases after spending the day on a wine, distillery, or craft beer trail.
These wine bags feature separate compartments, reinforced handles, and a bottom insert so they can hang in there whether they are used to carry wine or liquor bottles and even crowlers.
4. Berry Convenient Folding Tote
Folding tote bags are convenient because they are compact when they're not in use, but when they're opened up, they are a full-size tote bag. These folding tote bags fold into themselves so there is no need for a separate pouch.
These bags are great to keep on hand so if your customers end up at a farmer's market, festival, or fair they'll have a bag at the ready if they need one.
5. Polypropylene Reusable Bags
The quintessential beach bag, these polypropylene reusable bags have the classic styling of a tote bag along with a spacious main compartment. These bags can easily hold everything needed for a day of sun, sand, and water while the front pocket makes it easy to keep small items like keys or a phone accessible.
Easy Ordering
We offer two ways to order to best fit your needs.
Our in-stock selection of bags are already assembled, just send us your custom artwork and we can take it from there. This is ideal if you need your bags right away or if you need a smaller quantity.
Our bulk and custom ordering allow for a much greater level of customization, so if you want to alter the design of your bags beyond the printing, this is the option for you. Bags are made to order, so we can accommodate very large quantities. Bulk ordering also helps bring the price per bag down, so you can really make the most of your budget.
Get Ready for Fun in the Sun
For over a decade, we've been helping our customers create unique bags that serve their customers and their brand. We've worked with some amazing industry leaders, including American Express, Bank of America, Carnival Cruise Lines, Pepsi, The Home Depot, Whole Foods, and more. We want to help you, too.
Shop our full line of reusable bags and request your customized quote or contact us today to get started creating the perfect summertime bag for your customers!
Tagged