5 Eco-Friendly Ways to Reward CSR's for National Customer Service Week October 2-5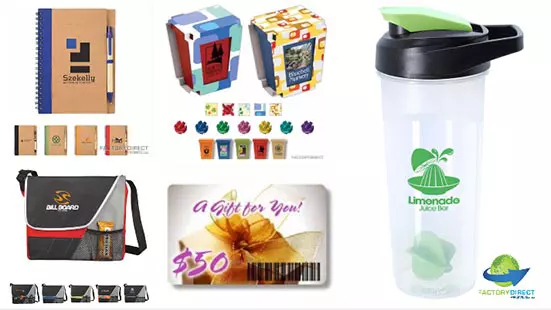 Say Thank You and Unite Your Team
Customer Service Representatives are a key part of any team. They represent your business and do a lot to keep customers informed and happy while helping your business expand.
Customer Service Week is October 2-5, 2020 and this is a great time to show your CSR staff how much you value and appreciate all of their hard work.
Here are 5 eco-friendly gifts to show your appreciation to your CSR team.
1. Bloom!
Sending a gift of greenery is always appreciated, especially when people are spending so much time indoors. You can even get creative and send your very own customized seed paper items.
Create a thank you or note card with custom printing, but you can also handwrite a unique message to each team member if you choose.
Your employees can plant the seed paper item and enjoy the plants that grow.
2. Blender Bottle
Custom blender bottles make it easy to stay healthy and can be used to mix up a shake or as a water bottle. Your CSRs will be reminded about your thoughtful gift with each sip.
Take this gift to the next level by bundling the bottle with the ingredients for a healthy shake and a note of thanks all packed into a customized promotional cooler bag.
3. Custom Reusable Bags
I mentioned a customized promotional cooler bag above, but really you can create any type of custom reusable bag that you think your CSRs would enjoy.
You will not only create goodwill, but you will also create brand ambassadors out of your employees and walking billboards to share your message with the world.
Feel free to get creative and design the perfect messenger bag they can use to carry their computer and paperwork while away from the office.
Or create a great beach bag or backpack depending on what you think will be the most useful for your team.
4. Write It Down
Jotting notes is a must to stay organized and on top of things. Make sure your team has the items they need to stay organized at work or at home.
A recycled notebook combo with an eco-friendly pen can make a thoughtful thank you that will be put to good use.
5. Show Me The Money
Now more than ever, many employees are very appreciative of any type of thank you that includes money.
Although research shows that employees are not always motivated by money alone, a little extra in the paycheck can mean an awful lot to your customer service reps.
You can even create your own customized gift cards to be redeemed with products from your business or online company store.
Plan Ahead
Eco-friendly promotional products unify your employees and help keep your business thriving.
Custom products require a bit of a turnaround, so organizing and ordering now will ensure your gifts are ready to go in time for Customer Service Week.
If you have any reservations about gifting reusable bags right now then please know that reusable bags are safe to use during COVID.
We're Here For You
We look forward to helping you create the ideal eco-friendly promotional item to show your CSRs you care about them.
We have been in business for over a decade. During this time, we have earned ISO certification and figured out how to streamline our process to save time and money.
We make the process easy by offering two ways to order. Our in-stock selection is ideal if you need your items quickly. Order from our custom/bulk selection if you want to order a large quantity and/or if you want to further customize your item.
If you haven't gotten the chance to work with us yet, learn more about Factory Direct Promos and get your quick quote on eco-friendly promotional products your CSR's will really appreciate.
Tagged