October Eco Special: Don't Miss Next Column Pricing October 14 – October 24
This Eco-Special Sets You Up to Save and Green Up Your Business!
At Factory Direct Promos we already offer super low prices, but now through October 24th we are offering next column pricing on three of our most popular styles of eco-friendly, reusable bags to help you save even more and go green! Choose from our reusable hurricane, tsunami or tornado bags and market your brand in an environmentally responsible manner, while also helping your bottom line. Now is the time to think about holiday gifts for your customers and vendors or to stock up on giveaways for upcoming tradeshows and events.
Our Direct Relationship with Our Factory Secures Low Prices for You
We work directly with our factory and make visits overseas to strengthen the relationship we have built with our friends overseas which allows us to lock in super low prices. Plus, there is no "middle man" driving up the price in order to take a cut and we pass that savings along to you.
Another perk of working directly with our factory is the ability it affords you to completely customize your bags. If you want to alter the design of one of our bags to fit how your customers will use your branded reusable bag we can work with you and our factory to make that happen.
You can select the material, the color, adjust the length of the handles, add pockets, snaps or zippers or really whatever you can dream up to create a marketing tool that will reinforce your brand with your customers and help get out your message for years.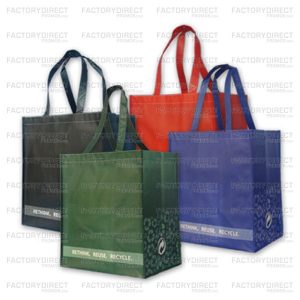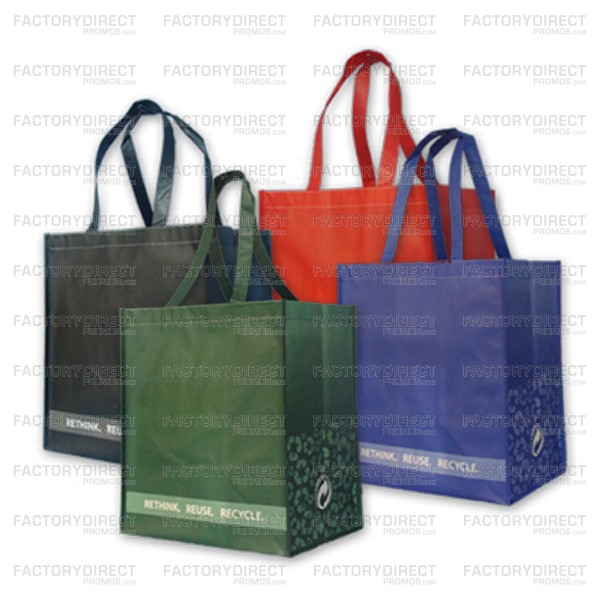 Also keep in mind that the higher the quantity you order the lower the price per bag, so tally up how many reusable bags you think you will need and consider ordering more. Reusable bags offer an amazing return on investment and they make great gifts and takeaways at events.
Under normal use a reusable bag will last for 3 – 6 years, which means your branding message will be put on display and you will be reaping the benefits of this exposure years after making your investment, and by taking us up on this special before October 24th. you can secure an even lower price and further increase your return.
This is a limited time sale, so place your order before October 24th. to take advantage of next column pricing HERE on one of these great styles of bags!
Choose Your Bag Style and Customize It to Fit Your Brand
For a limited time you can secure next column pricing on three different styles of bags; select our reusable hurricane bag, reusable tsunami bag or reusable tornado bag.
Our reusable hurricane bags can be yours for as low as $1.14. Made from a heavy-duty 120GSM polypropylene non-woven material these bags are recyclable and also boast a reinforced bottom to evenly distribute a heavy load. Our reusable tsunami bags are made from a laminated recycled material that is eco-friendly and durable.
During this promotion the
reusable tsunami bags are available for as low as $1.49. Last up is our reusable tornado bags which are priced as low as 99-cents!
The reusable tornado bags are constructed from a sturdy polypropylene material and the reinforced handles can support up to 25 lbs. of weight, making these bags durable and functional.
Let's Get Started
We are of course ready to help you get started and work through the design and production process. Do you have questions about this promotion or one of our bags or how to place your order? Let us know and we will be more than happy to help you out. We can be reached at 1-866-222-0949 or reach out to us on HERE.
Remember, this is a limited time sale, so place your order before October 24th. to take advantage of next column pricing HERE on one of these great styles of bags!