How to Increase Brand Recognition? Here are 3 Easy Ways
How to Reap the Benefits of Brand Recognition
Simply put, when people see your company's logo or a slogan, or even if they can associate your corporate colors with your brand, that is brand recognition. When customers are aware of and recognize your brand that is an indication that you have successfully marketed your company and the products or services you provide. People like to stick with what they know and what they are familiar with, so there is a definite perk and value to creating and fostering that recognition.  Here are three easy ways to increase recognition of your brand.
Eco Promo Items Such as Reusable Bags and Bottles Will Remind Customers of Your Brand
Reusable items imprinted with your branding message like these will put your company front and center so every time your clients pick up their stainless steel reusable water bottle or their reusable bag with your brand imprinted on it they will see your marketing info. This constant reminder will create a sense of familiarity and that will translate into increased brand awareness.  You can completely customize your reusable marketing tool to really make it blend in with your larger branding campaign, so it will be consistent.
Start by selecting the type and style of eco friendly promotion item you want and customize away. You can choose the material and adjust the item – think about adding pockets or zipper closure to a bag or add a carabiner clip to a water bottle or choose the style of clip on a lanyard. The beauty of customizing your promotional item is that you can make it function in a way that will be beneficial to your customers, and remember: the more useful your custom branded reusable items are, the more often your customers will reach for them, and the more they use it the more visibility your brand receives.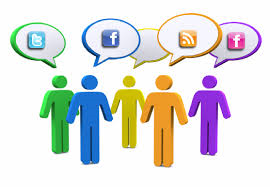 Use Social Media to Stay on the Forefront
Social media is a great tool to establish and foster relationships with your clients. Find the platform that works best for your brand and your demographic; keep in mind that there might be a couple social media tools out there that are a good fit. Twitter, Instagram, Facebook, Pinterest, and LinkedIn all have their merits. You want to determine which sites your customers are on and target those specifically.
Social media allows you to build a relationship and nurture conversations since your customers can like your posts, Retweet or leave comments. This instant feedback can help guide your outreach, customer service, and marketing and it allows your customers to feel involved and appreciated. When you interact with your customers via social media, your exchange may also be visible to other members of their network so you can further expand your reach and your brand recognition.
Custom Table Covers Help Identify Your Brand at Trade Shows and Other Events
When attending an event you want to make sure customers can easily locate and identify you and a table cover customized with your branding info or logo is the perfect way to do that. A high-quality table throw will last for years, giving you a great value for your money, and it can be customized – select the color of the throw and send in the images you want imprinted and you are ready to make a statement at your next trade show or event. Choose colors consistent with your branding scheme for a cohesive and neat appearance.
Brand Recognition Takes Some Work, But It Can Be Done
It certainly takes some work getting your name out there and establishing brand awareness but it can be done even on a budget. Once you've made a name for yourself, you still need to continue to remain relevant by engaging your customers and continuing to remind folks about your brand, but this is where custom branded gear steps in to keep your name visible and remind your customers and everyone they come across about your brand in both their day-to-day lives and at trade shows and other events.
Social media is also an extremely valuable tool in terms of keeping in contact with your customers, so make sure find the platform that best fits your brand and get in touch with your customers. What do you do to increase your brand recognition? Do you have any tips you'd like to share?
Tagged