Give the Gift of a Plastic-Free World This Holiday and Join the Plastic Bag Ban Movement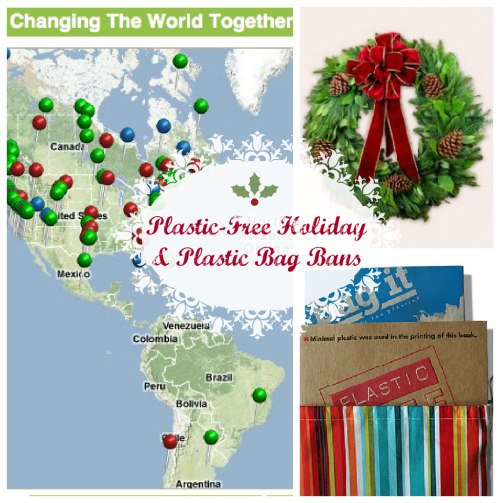 Come to The Holiday Blog Carnival and Join In The Plastic Bag Free Movement!
Factory Direct Promos is hosting a blog carnival to raise awareness about why it is important to use reusable bags. We are showcasing blog posts from 28 amazing and talented writers who took the time to share and discuss with their readers and us the environmental necessity of taking action and putting an end to the use of disposable plastic bags.
We are thrilled at the response and the turnout of really great and thought-provoking posts we received. Please take some time to check out these incredible posts, and please take a moment to check out their other great, green living and working content while you're there visiting.
A Big Thank You from FDP to All of Our 2012 Holiday Bag Ban Blog Carnival Participants!  Thanks for Giving the Gift of a Plastic-Free World This Holiday
Lori Popkewitz Alper  with Groovy Green Livin' shares that "After forgetting my reusable bags more times than I care to admit I finally figured out a simple solution for remembering them most of the time."  Click through to discover her trick.
Jeannette Bezinque with eco incognito has a plastic bag problem!  Uh Oh!  Can you relate?
Brenna Burke with Almost All the Truth offers up a guest post with 10 reasons to choose a reusable bag.  We think the most intriguing reason is #10.
Anne Brock with Flour Sack Mama shares, "Without much effort, we've found several alternatives to those thin plastic bags."  Check them all out on her site!
Lynn Colwell with Celebrate Green has always been a fan of reusable bags for entertaining and use during the holidays.
Beth Funari  and Julie Hancher  with Green Philly Blog ask, "Is Philly next to reduce plastic bags with San Fran, DC & LA?" and say, "Let's get on the map!"
Leigh Garofalow with Green 4 U is wondering how far YOU are willing to go to ban plastic bag and asks, "Would you be willing to start a plastic bag ban in your city? Would you support the efforts?" Tell her why or why not by clicking through.
Katy Farber with Non-Toxic Kids shares the FDP "Why Reuse a Bag" infographic and tells a story we can all relate to of being "caught at the grocery store without my bags, with a sick kid, hungry family, and my husband up front, forgetting to ask for paper bags." We feel your pain, Katy!
Kristina Fashjian Greene with The Greening of Westford shares what's in it for you if you decide to go reusable and ditch plastic bags. "The little plastic grocery bag.  It has become quite a hot topic.  Plastic bag bans and fees are popping up around the world. But what is the big deal with plastic bags?  Why are they so bad?"
Diane MacEachern with Big Green Purse offers up her favorite holiday reusable gift bag options and shares, "Why do I love reusable holiday gift bags? Let me count the ways."  We can't decide which is our favorite but are leaning toward #4!  How about you?  Which is your favorite reason?
Priscilla Matuson with A Gluten-Free Vegan Mom Who Knows shares the story of her aspiring plastic bag-free life and talks of the strides she has made, "I still suffered from a great deal of guilt because of all the wasted petroleum that I was directly responsible for when using disposable bags just for my convenience."  Yes, Priscilla, petroleum is a big reason to go reusable.  Click through for the rest of the story.
Jen Eyers-McLaughlin with Jen and Joey Go Green tells us just to say NO to plastic bags and adds, "So I have to wonder…why did stores move to plastic bags from paper bags?"  Good question Jen!  Does anybody care to offer her an answer?
Michelle with Everything's Abuzz tells us how NOT to get "bagged" down and shares the funny story of when, "After a busy morning at TraderJoe's, I was emptying my reusable bags, when Big B peered inside and said, "Eww, Mommy, we need to WASH these bags!"  You crack us up, Michelle!
Stephanie Moram with Good Girl Gone Green talks of how plastic bags, "simply break down into smaller and smaller toxic pieces that contaminate our soil, waterways, and inadvertently enter our food supply when animals accidentally ingest them." and asks, "Do you think banning plastic bags is the solution to our plastic bags problem?"
Charise Rohm Nulsen with I Thought I Knew Mama offers that, "If your city is not yet on the plastic bag ban map, think specifically about the health implications of using plastic. Then, consider the pros and cons of helping to add it to the map."  Thanks for the inspiration Charise!
Francesca Oliveri with Green Lady asks, "What are we doing to our environment?" and shares a thought you might be able to relate to, "It is a mess and there are days I want to crawl back into bed and give up, but there are always things we can do."
Micaela Preston with Mindful Momma says the time is now for reusable bags and offers up some of her favorites. "With 40% of annual retail sales happening between Thanksgiving and Christmas, my guess is that a similar percentage of disposable plastic bags are being let loose into our system during that time as well."  We agree Micaela!  Why put it off until tomorrow what can be done today!
Rachel Lincoln Sarnoff with Mommy Greenest says, "just say no to paper and plastic!" and offers up a great, green holiday gift from the Environmental Working Group (EWG) that requires no shopping bag!
Jenn Savedge with MNN asks, "Where does your town or city stand on plastic bags?"
Lisa Sharp with Retro Housewife Goes Green shares that, "Plastic is everywhere during the holiday season, plastic trees, plastic gifts, plastic bags from shopping, plastic wrapping, and so much more." and offers tips on how to reduce plastic during the holiday season.
Shane Shirley-Smith with Environmental Booty offers 3 tips to keep you happy and healthy while using reusable bags.
Amity Hook-Sopko with Green Child Magazine asks her readers to join the plastic bag ban movement and get a gift in return.
Lacey Swartz with KV Organics makes us laugh with her stories and hilarious video and says, "no doubt, there are mixed feelings on this out there.  Some will undoubtedly cry 'personal rights' and such.  If I want to use a plastic bag, I should not be denied the right to do so.  I can understand – sort of."
Tiffany Washko with Nature Moms asks if we should get behind plastic bag bans and shares, "When it comes to Government legislation I don't tow any particular party line. I like to look at each situation individually and make up my mind."  Does this sound like you?
Charlotte White with Random Charlotte says Plastic bags blow!" Need we say more?
Paige Wolf author of Spit That Out! The Overly Informed Parent's Guide to Raising Children in the Age of Environmental Guilt calls Factory Direct Promos an "innovative promotional item company" (TYVM) and asks if Philly can be the next city to ban plastic bags.  We hope so ladies!  We expect more news to follow very soon on this city and how they will handle the plastic bag problem.
Danielle Richardet with It Starts with Me offers a passionate plea to ban the bag, posts a video of what she uncovered in her town, and shares, "I am by every account the type of person that believes my choices matter.  I don't know how long I've been this way, but I suppose it's been so long that I can't quite remember when I wasn't.  My choices span from choosing to have a positive outlook to such things as refusing single-use plastics.  When it comes to refusing plastics… one of the simplest things we can all do is to stop using plastic bags."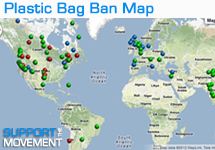 How to Get Involved in the Plastic Bag Free Movement
All of the posts above are part of the Factory Direct Promos Blog Carnival to explore the "why" behind bag bans, fees, and using reusable bags, and all of the posts also feature our new bag ban map.
"I have known for a long time that I wanted to create a way for both consumers and business leaders to be able to really visualize the global plastic bag problem and learn about the stories behind the different solutions around the world. I think the map turned out great.  I want to thank all of the green bloggers for taking time to join us in the holiday blog carnival and helping us to bring awareness to the global plastic bag problem, offer solutions and inspiring and even funny stories and highlight our map. " –  Jason Tunick, CEO, Factory Direct Promos
Our interactive map tells the constantly changing stories behind the plastic bag movement that is going on all over the world. This is a great place to learn the how and why behind successful bag bans as well as the stories behind some not-so-successful bag bans.
These stories from the towns, counties, states and even countries that are working to pass bag bans or have successfully got a bag ban on the books are inspiring and informative. Our bag ban map is also a great online space for you to chime in with your own thoughts about the bag ban movement and then share them on Facebook! We want to hear from you, so please share your thoughts and stories. You can even join the movement and grab your very own badge for your blog or website sidebar.

And Here's A Holiday Gift For You
As a thank you for taking the time to check out some of the blog posts above and visit our interactive worldwide bag ban map, please feel free to use this coupon code for $25 toward any purchase on our site!
Happy holidays and thank you for your commitment to using a reusable bag!  Here's to an even greener 2013!
Photo Source: Lisa Sharp
*Some participants taking part in the blog carnival have earned a spot in a drawing for their very own seed business cards (or $100) as well as a $100 donation to the charity of the winner's choice.