Four Ways to Make Trade Show Bags Work for Your Brand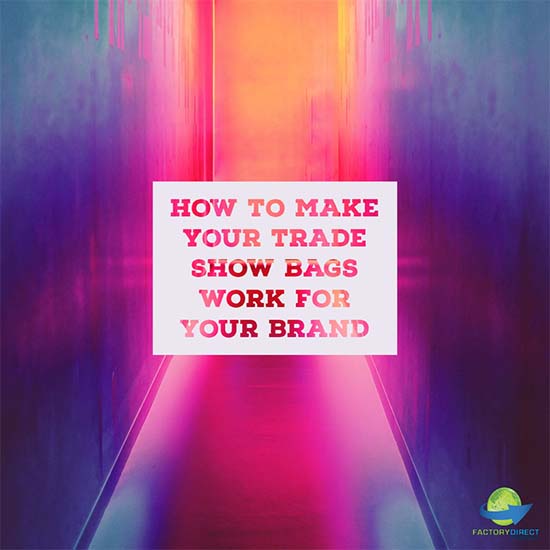 Easy Steps to Create a One-of-a-Kind Trade Show Bag
Trade shows create an opportunity to connect with clients, vendors and other members of your industry. This is also a time to leave a positive impression and either reinforce existing relationships or establish new bonds. Promotional marketing, or rather, handing out reusable trade show bags customized with your marketing info, are great ways to build your brand. Here are four ways to make your trade show bags work for your brand.
1. Choose the Style
Certain styles of bags are more appealing to specific demographics. You know your customers, so pick a bag style that they will like and also makes sense for your brand. Reusable grocery bags are a popular choice and are very versatile, but there are so many other styles. Insulated cooler bags, wine totes, drawstring backpacks and more all offer unique functions. The more useful a reusable bag is the more likely your customers will use it and the more exposure your brand will receive.
2. Select the Material and Color
Some fabrics are better suited for certain functions, so the style of the bag may dictate the fabric. All of our fabric options are eco-friendly. You can select woven or non-woven polypropylene, which are both made from recycled plastic. We also offer sustainable options like cotton and jute.
Your artwork may also help guide the fabric decision. If your artwork is simple and just one color that is very well suited to more textured natural materials like jute. Multiple colors will display much nicer on polypropylene, while non-woven polypropylene is the ideal choice for full-color and more detailed artwork.
Once you have decided on the fabric you can choose from the available colors in that fabric. The right color for your custom reusable bags should be part of your corporate colors or tie into your artwork to create a cohesive look.
3. Add Custom Features
Alter anything or everything about your reusable trade show bag to make it look and function just the way you want. Change the handle length, add a zipper closure or different sized pockets, a clip to hold keys or anything else you think up. These extra touches give the bag additional function and make it more useful.
Again, the more useful the bag is the more use it will get. Every time your customers use your branded trade show bags they will be reminded of your business, but they will also put your marketing info out there for others to see. This exposure can help direct traffic to your booth during a trade show, but it will also increase your brand's awareness long after the event ends.
4. Submit Custom Artwork
Your artwork will convey your message and get your branding across. You will want to include your logo, contact info and anything relevant to the event at which you are exhibiting. For instance, if you have a new product launch you may want to highlight this in your artwork. We can match Pantone colors, so supply that info along with your artwork and your customized trade show bags will match the rest of your marketing materials.
This is also where you can add your branded hashtags, a call to action, your website address, a QR code, and more.
Let's Get Working
Trade show bags can do amazing things for your brand. However, you need to create the right bag to do the job. Taking the time to create a custom bag will ensure the bag will provide lots of function and be a favorite with your customers, so it will be sure to get lots of use and promote your brand in the process. If you are ready to get started designing your one-of-a-kind custom trade show bags then we can help! Let us know if you have questions, need a quote or want to see samples of any of our bags.
Tagged