Four Easy Ways to Market Your Brand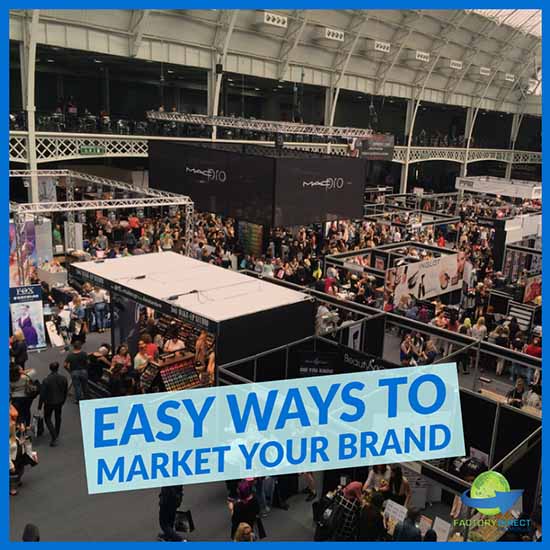 Tips to Increase Your Brand's Awareness
Reminding your existing customers about your brand or getting your brand in front of a wider audience is a necessary step when it comes to increasing sales and growing your business. Marketing is a diverse field and there are lots of ways you can build your brand. If you want a simple and proven marketing approach then we have your back. We have put together some tips you may not have thought of, that you can use to gain business and beat your competition. 
Here Are Four Easy Ways to Market Your Brand
1. Benefit From Being Social
It's estimated that about ⅔ of Americans use social media daily. If you're not already benefitting from social media marketing, it's not too late to get your brand on-board. Social media offers a great opportunity for your clients, prospects and even employees to engage with your brand while also growing the reach of your business.
As your followers like and share your posts your brand will enjoy a wider audience, which means potential customers will see your posts, learn about your brand and possibly become new customers. Additionally, you may not realize that many social media platforms, like Pinterest, enjoy high visibility in search results. This will serve to push your brand further without additional effort or spend from your web development team.
2. Update Your Site
Your website is likely the first place people will turn if they have questions, so make sure your site has all of the answers. Double-check contact info, hours, photos of team members and everything else. If customers have to make an effort to find the answer to a simple question, like what time do you close on Wednesday or whether you carry a specific size, then they may get turned off from your brand.
Also make sure your site and your social accounts are linked, so users can easily get from one to the other to learn more, place an order or follow your feed.
Finally, you might need to consider a site audit and refresh. If you are not sure if your site is up to date as far as the technical side of things, it is worth the spend to ask for an audit of your site. Did you know your website will get penalized by search engines if it loads too slowly? It is true as are a myriad of other things that must be addressed and verified as acceptable to not only search engines but also your prospects and existing clients and customers. If the user experience is not on point, you will lose customers.
If you are a business that sells to other businesses, you will want to form a partnership with a web development firm that specializes in B2B. The same holds true if you are a consumer based business. Ask for recommendations from others in your field whom you trust.
3. Sponsorship Opportunities
Look for sponsorship opportunities at any relevant events. Trade shows and conferences often provide excellent sponsorship opportunities. These types of events can increase your brand's exposure within your industry at a national level.
Depending on your business, you may want to look for sponsorship opportunities closer to home. Community concert series, festivals and even sports teams from professional down through the minor league systems often look to partner with local businesses.
You can sponsor a giveaway, hang a banner at an event or anything else that will get your business exposure at the community level. Make sure the event and audience fits your brand and demographic and makes sense for your business.
4. Custom Gear
Promotional marketing is another great opportunity to grow your business. Whether you create something to hand out at a trade show or industry event or an event in your community or to sell in your store or through your site or to just give away to loyal customers, you can always find a way to distribute custom swag.
Studies from the Advertising Specialty Insititute (ASI) show that consumers are more likely to do business with a company that has given them a promotional product.
Promotional marketing items are a relationship strengthener for your brand. Whenever your customers use your custom branded bag, water bottle or even eco-friendly reusable straw, they will be reminded about your business and also work effortlessly to share it.
Custom promotional products also last long after the trade show or other event is over, so your customers will be using the items, thinking about your brand and positioning your brand in front of their friends, family, coworkers and even strangers for a long time to come. Items you design today can be out there working to grow your business months and maybe even years from now.
Get Started
Being more active on social media, improving the customer experience on your site, taking advantage of sponsorship opportunities and promotional marketing are all easy ways you can grow your brand.
Do you have any tips and tricks for easy marketing opportunities? Let us know in the comments! If you want to get started designing your very own custom branded products – reach out!
Tagged