Chicago O'Hare Goes Green and Gets On Board with Reusable Bags!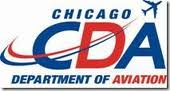 Chicago O'Hare Bans Single-Use Plastic Bags!
As part of a policy to create a healthier and more environmentally friendly workplace single-use plastic bags will be banned at Chicago's O'Hare airport – which is one of the busiest airports in the U.S. in terms of the number of passengers who pass through each year.
The policy was announced by the Chicago Department of Aviation (CDA) and also does away with polystyrene foam (Styrofoam), petroleum-based plastic disposable consumer containers and utensils and petroleum-based plastic trash bags, as well as mandating all solid waste refuse to be source sorted into recyclable, compostable and refuse (non-recyclable/non-compostable), and requiring only green cleaning and hygiene products and soaps among other things.
Big Move Likely to Have Big Results
This is an ambitious undertaking that will have a large and positive impact on the environment.
"Chicago has been a leader in airport sustainability for the past 10 years, embracing the best possible environmental, social, and fiscally responsible practices to enhance the quality of life of airport stakeholders," said CDA Commissioner Rosemarie S. Andolino. "The CDA's new green concessions policy is among the first of its kind in the airport industry and is another great example of how Chicago's airports continue to serve as a benchmark for environmental stewardship."
CDA Continues to Increase Sustainability
This new policy is scheduled to be in full effect by the end of 2013. This measure also calls for the incorporation of Sustainable Airport Manual (SAM) guidance. SAM strives to increase sustainability practices in ways specific to airports and in all areas and departments. What makes SAM so successful is that it is built to fit an airport – a sustainability solution that fits one type of business may not fit others, so by taking an airport-centric approach, the CDA is setting everyone up for success.
The CDA has done a great job working towards sustainability and this latest measure is poised to continue on the path to environmental responsibility. We would like to thank @Activist Abby for alerting us to this great news and for her tireless work to get a ban in place in Chicago.
If your business would like to get on board with O'Hare and go reusable, please take a look at all of the reusable bags you can choose from here at Factory Direct Promos. And remember, we specialize in custom orders from 250 to the millions.