5 Ways to Remember Your Reusable Bags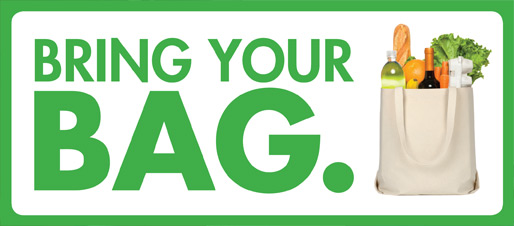 Create a Reusable Bag Habit
When you're tackling errands and taking care of all the things you need to on any given day, grabbing your reusable shopping bags may be the furthest thing from your mind – until you find yourself at the checkout lane with nothing to put your groceries in. Everyone has been there and it can be frustrating, but here are a few tips to help you remember your reusable bags.
Folding Totes Easily Tag Along

Folding reusable tote bags take up minimal space and you can drop them in a purse or backpack, so you have a reusable bag on hand when you need it. The lightweight material folds up to a compact size and many of these bags either fit into a small pouch or they feature some type of built-in closure that keeps them contained when not in use. When you need a bag simply remove the bag from the pouch, give it a shake to open it up and you are good to go.

Leave Your Bags Where You Will Remember to Grab Them

When you get home and unpack your groceries, as soon as you are done with your reusable bags leave them where you'll see them, so you will remember to take them with you the next time you head out to the store. You want to make sure to place them in a highly visible spot so they will jog your memory. Find a place that works for you. Maybe the best place is next to your front door, or hang them up next to your coat or try setting them next to your keys, so you'll be sure to take your bags along.

Put Your Bags Back In Your Car

As soon as you've cleaned and dried your bags put them in your car. It may be a hassle to run out and put them in your vehicle, but it is more of a hassle to get to the store and realize you left your reusable bags at home! The trunk is a popular place to store bags in a car, but the problem with leaving your bags in the trunk is that it is easier to forget them, because you cannot see them. Try leaving your bags on a seat or maybe in the back window. You want to leave the bags someplace where you will see them, so you remember to grab them.

That's Why You Always Leave a Note

Write yourself a note to bring your reusable grocery bags. Leave yourself a sticky note on your door or with your keys or anyplace you will see it, reminding yourself to bring your bags. Maybe jot a reminder note on your shopping list or set a reminder in your mobile phone.

Help Each Other Out

Remind whoever does the shopping in your household to grab the reusable bags when you know they're heading to the store. A quick text message is all it takes and can save the person doing the shopping the headache of walking in the store and realizing they don't have their reusable bags.
Be Patient!
Forming a habit takes time. Try not to get frustrated when you forget your bags (and you will – everyone does). These five simple tips will have you forming the reusable bag habit that you won't want to break.  Before you know it you'll be in the habit of always bringing your reusable bags when you do your shopping.
Photo Sources: http://sfenvironment.org/article/bring-your-own-bag