5 Benefits of The Purpose Driven Workplace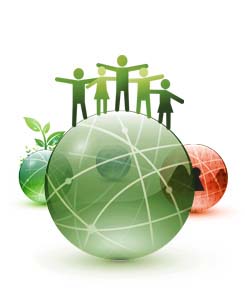 5 Part Series on The Purpose Driven Business: Part 2 – 5 Benefits of The Purpose Driven Workplace
Integrating purpose into business can have a clear and positive impact on the mission your company rallies behind. There can be a lot of residual benefits, too. For instance, purpose driven business plans can improve the workplace. As part of our 5 part series exploring the purpose driven business, today we will take a look at 5 benefits of the purpose driven workplace.
5 Benefits of The Purpose Driven Workplace
Knowing the Mission Defines the Path. When a business clearly establishes their purpose, or mission, everyone knows what is important. Employees at all levels will have an easier time making decisions and setting priorities, because they have an unmistakably defined purpose.
Purpose Makes Employees Feel Like They Belong. By identifying and aligning with a purpose, a business gives their employees a clear message about the company's culture and principles. When employees understand their company's purpose, they are more likely to support the organization and experience a sense of fitting in. This loyalty will ensure longevity. Employees of companies that dedicate resources to purpose, experience less turnover. This statement is especially true for millennials. Retaining key employees allows a company to build strong working relationships.
Improved Customer Engagement. When a company is up front about their purpose it helps them stand apart from their competitors. Having a clear purpose makes it easy to start a conversation with customers and potential customers alike. Many people also like to support companies that care about doing good. Customers are more apt to be loyal to a company that supports causes they believe in, but even if a business is working to bring about change for an issue the customer does not support, they are still likely to support the brand in their work.
Give Your Strategic Alignment Purpose. The first step to establishing alignment is to have a clear purpose. Once you know what you want your business to stand for, you and your staff can align everything else around that purpose. You can optimize processes and employee's contributions and set performance goals to alignment around your purpose.
Get Metrics Around Your Purpose. You want to put your employees in a position where they can do their best work and align their strengths with your company's purpose. Survey employees to assess how they feel about the company's stated purpose, and use this data to match employees to the tasks and responsibilities that best fit their strengths and help achieve the company's purpose.
What Benefits to the Purpose Driven Workplace Did We Miss?
From employee satisfaction to customer engagement and improved strategic alignment, there are a lot of benefits to the purpose driven workplace. Feel free to check out this Gallup article on the purpose driven business.
Do you know of any benefits that didn't make our list? Let us know in the comments or on social media! Stay tuned for the next three installments in our series on the purpose driven business.