3 Ways To Make Your Workday Worth It!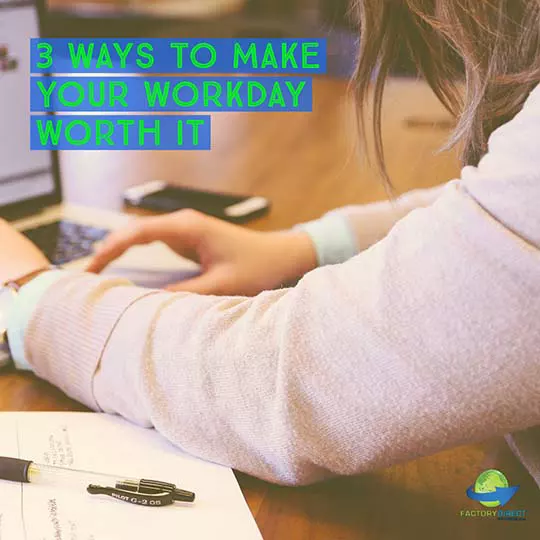 Good Advice to Provide Motivation
Sometimes the right words or inspiration can help you focus and gain a positive perspective to help you tackle your work. Being reminded of why your work matters can sometimes be all it takes to take care of business and do what you need to do.
This notion was inspired by a social media post put out there by our parent brand, Superior Business Solutions. They provided 10 quotes that inspire us to "get through our workday".
Here at Factory Direct Promos, our work matters because creating custom shopping bags is one way we can help the planet as well as businesses and municiplaities acorss America. But some days, we all need a little guidance to get back on track and truly feel that the work we do each day matters.
1. Mind Your Business
Distraction gets in the way of quality work. Establishing goals and a plan helps you stay focused which not only helps you cross things off your to-do list, but it also creates a sense of accomplishment and reduces stress. Learning how to incorporate mindful strategies and practices into your day takes some time and effort, but the results are worth it.
2. Make Time for Creativity
Studies have proven and shown that it is always a good idea to have downtime because it helps creativity. Planning time for creativity sounds a bit ridiculous or counter-intuitive, but if implemented in a sincere and thoughtful way, this practice can have a significant impact.
Structure and clear parameters certainly help you accomplish what you set out to do, but giving yourself space and time to come up with innovative solutions can totally make your workday worth it.
3. Embrace Vulnerability
Don't be afraid to be vulnerable because if you're not, there is really no way that you can be empathetic and caring. And here's a surprise…creativity is born from vulnerability. Shame can prohibit people from being truthful and honest, even with themselves.
This hurdle can prevent people from reaching goals and connecting with others. Understanding how your vulnerability can derail your work empowers you to avoid this pitfall and do your best work.
One of my favorite people to gain an understanding of vulnerability and its importance in life and the workplace is Brené Brown. She encourages us to embrace vulnerability for our benefit.
Start Making Your Work Matter
You work hard, but sometimes distractions can prevent you from doing your best work. This is bound to happen, but knowing what mistakes or traps to avoid can help you buckle down and do what you need to do to ensure you have a productive day.
Here at Factory Direct Promos we are about more than just custom grocery bags and helping businesses succeed with their eco-friendly marketing (although we are very good at those things). We also like to share important information that can really help you and your workday as well.
From advancements in green technology to how green legislation can impact your business, eco specials and more, we want to help you learn and grown and help move your business forward. We strive to do this with our newsletter.
Sign up to learn more and find out how our newsletter can help your business.