10 Quotes to Make You Fall In Love with Marketing All Over Again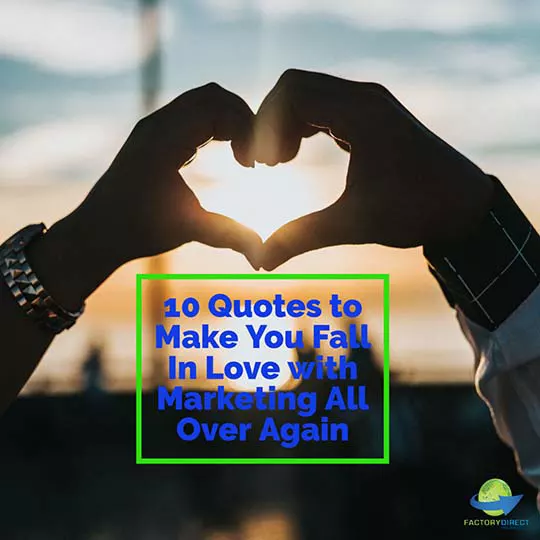 Get Inspired to Take Care of Business
Marketing is ever-evolving as technology advances and trends cycle in and out. Continuing to stay motivated as you also stay on top of everything you have going on can be a challenge. You still love marketing, but some days it may be hard to remember why you do. In honor of Valentine's Day and in honor of all of the great markers that have come before you, we rounded up 10 quotes to make you fall in love with marketing all over again.
10 Inspiring Marketing Quotes
1. "Creativity about life, in all aspects, I think, is still the secret of great creative people." – Leo Burnett
As the renowned namesake of Leo Burnett Worldwide, Inc, Mr. Burnett is an advertising legend. He started his advertising company in 1935 in Chicago. Today this agency is one of the oldest and part of one of the largest agency networks.
2. "The best way to predict the future is to create it." – Peter Drucker
Peter Drucker essentially engineered management as we know it today. This Austrian-born American was a consultant, educator, and author. His work created the management model and he even accurately predicted changes in management and business.
3. "An essential aspect of creativity is not being afraid to fail." – Edwin Land
Perhaps best known as a co-founder of the Polaroid Corporation, Edwin Land was also a scientist and inventor. Being afraid to fail can hold you back, and in the case of Land, may have prevented him from making some of his biggest discoveries.
4. "Good marketers see consumers as complete human beings with all the dimensions real people have." – Jonah Sachs
Jonah Sachs is a well-known entrepreneur storyteller, designer, and author. Understanding your audience are real people with dimensions enables you to create a well-rounded and solid plan to reach them.
5. "Either write something worth reading or do something worth writing about." – Benjamin Franklin
Not a name expected to show up on a list of influential marketers, Benjamin Franklin was a founding father, inventor, and statesman. While these words were written while social media and content marketing couple were still a couple hundred years off, they still ring true. Your marketing needs to effectively reach and inspire customers. This can be done through the language itself as well as through your actions.
6. "Our job is to connect to people, to interact with them in a way that leaves them better than we found them, more able to get where they'd like to go." – Seth Godin
As an author, entrepreneur and former dot com business executive, Seth Godin is a practiced innovator. He is also a recent inductee into the American Marketing Association's Marketing Hall of Fame.
7. "Marketing's job is never done. It's about perpetual motion. We must continue to innovate every day." – Beth Comstock
Beth Comstock served as Vice Chairman of General Electric and went on to found Hulu. Marketing is a constant endeavor and is always moving forward and looking for new ways to communicate and reach the intended audience, but this is also what makes marketing so much fun.
8. "If you're looking for the next big thing, and you're looking where everyone else is, you're looking in the wrong place." – Mark Cuban
Mark Cuban is an entrepreneur and investor. Cuban reinforces with this quite, that in order to reach your customers, you need to stand out and be different and innovate. Blending in with the rest of the noise will not get you noticed and your marketing will suffer.
9. "If you can't explain it to a 6-year old, you don't know it yourself." – Albert Einstein
Again, another well-known name outside of the marketing industry, Albert Einstein was a theoretical physicist best known for developing the theory of relativity. His words are relevant to marketing because the ability to explain why and how products and services are worthwhile is what marketing is all about. To clearly and succinctly do this enables you to easily connect with your audience.
10. "Our jobs as marketers are to understand how the customer wants to buy and help them do so." – Bryan Eisenberg
Bryan Eisenberg is an entrepreneur and author. Understanding your audience is so incredibly important in order to connect with individuals. When you understand who you are trying to reach you can simplify the process and eliminate obstacles to close sales.
Feeling Inspired?
We hope this roundup of marketing themed quotes inspires you to go out and do your best work. Do you have a favorite marketing quote that didn't make our list? Please share!
If you're looking for new and creative ideas to market your business, check out our extensive catalog of promotional products. Finding the right product that speaks to your customers can deliver hundreds or possibly thousands of impressions and help reinforce your branding message. Sign up for our newsletter to learn more!