3 Ways Our New Site Design Helps You Build a Better Brand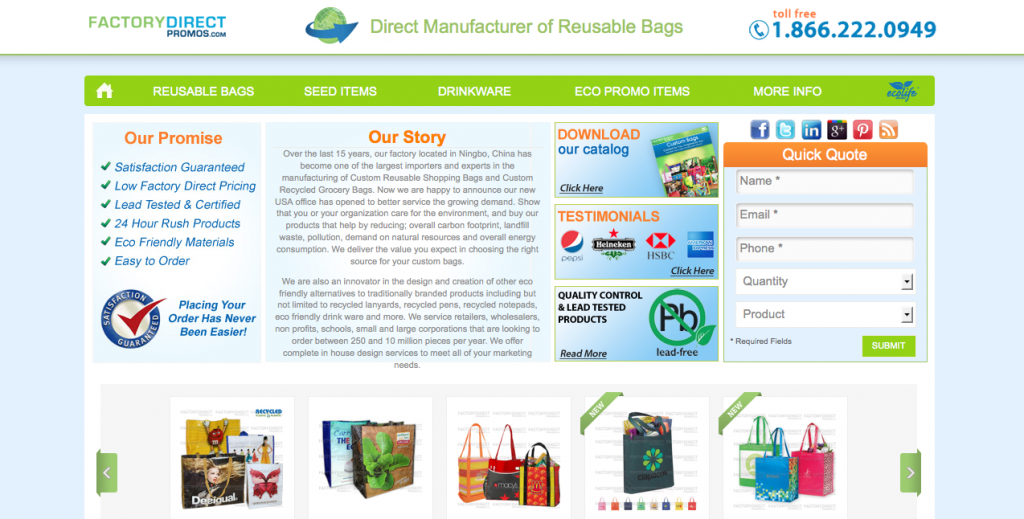 How Our New Look at FDP Works for Your Brand!
We recently launched a brand new design of our web site and while we're very excited to share this new look with you, we are more excited about how well the new web site flows and the ease with which you can use the features. Your time is valuable, and the new design is streamlined and functional, so you can zero-in on what you're looking for and get the information you need quickly.
Here are Three Ways the New Design Will Help You Navigate the Site and Market Your Brand
1. Pricing Listed – The pricing is now listed so you can know at a glance what the basic cost of a bag is – you can compare to other products on the site and make sure you stay within your budget as you are creating your wish list. We list the stock price when applicable, and the overseas custom price. Bags that are in stock are available right now at our facilities in the U.S. and we can quickly print your message on the bags and get them out to you in a short turnaround. When you select the overseas option you can take advantage of our overseas production capabilities. With overseas production, you can completely customize the bag design – add pockets, zippers, select a different gusset color – and whatever you want, we can help make happen (additional fees may apply). Our overseas production takes a little bit longer, but the tradeoff is that you can completely customize the design of your bag.
2. Easy to Get a Quick Quote – With the click of a button you can get a free, custom quote for what you want to create. All you need to do is fill in some basic info like your name, contact info, a range of how many bags you'll need, and when you'll need them, and we will get back to you with what your job should cost. The quote button appears on the preview page, so you can request a quote when looking at all of the offerings within a category. The quote button also appears on the product detail page, so again you can request this info with a simple click.
3. Easily Download Our Catalog – Our catalog is now front and center and you can flip through a digital copy just by downloading it from the site. The catalog is a great resource full of pictures and ideas, so check it out to see how different bags can be customized and to familiarize yourself with all of the reusable bag styles we offer. Make sure to review the general information, artwork specifications and layout pages to learn the ins and outs of designing a custom reusable bag (and be sure to let us know if you have any questions).
A lot of hard work went into the new site design and we're very grateful to our team – a big shout out to Lucas our amazing techie – for creating such a streamlined and useful web site. Take some time to click through the site and check it out. Review the pricing, take advantage of the easy-to-use quote feature, and browse the catalog as you decide what type of bag best fits your brand. As always please feel free to get in touch and let us help you get started designing your custom reusable bag today.