3 Ways Custom Grocery Bags Make Your Marketing Easier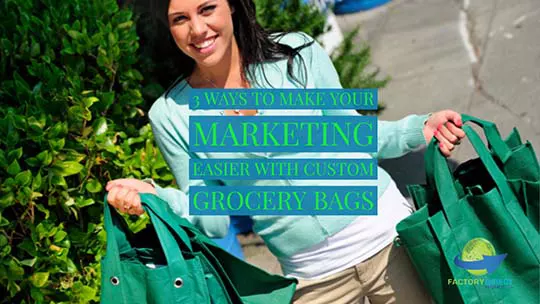 Put Custom Grocery Bags to Work for Your Brand
Custom grocery bags have a lot to offer your brand. These reusable bags can help take your marketing efforts to new heights. Consumers know plastic is bad for the planet and research shows us that they will align themselves with brands that work to reduce their use of plastic.
While also ensuring your message is noticed, custom grocery bags help you promote your brand in an environmentally responsible way consumers appreciate. Let's explore three ways custom reusable grocery bags can simplify your marketing while delivering effective results.
1. Consumers Love Them
Custom grocery bags are one of the most popular promotional items that consumers want. The increase in popularity is partly due to an increased interest in environmental issues, and also as a result of laws banning or imposing fees on single-use plastic bags.
With plastic bags no longer available, many consumers have a need for reusable bags. Custom grocery bags are also just plain useful and handy to keep around. According to the Advertising Specialty Institute, a full 50 percent of consumers own a reusable bag.  Give your customers what they want!
2. Eco-Friendly
Consumers are becoming more aware of the pitfalls of plastic. While plastic in general has a lot to offer, it can become a major problem when used irresponsibly. Difficulty recycling and a likelihood to end up as litter often push people away from using plastic when not necessary. Increased coverage of the Great Pacific Garbage Patch has raised awareness and opened the eyes of many people about just how big the plastic problem has become.
Evidence of shifting public sentiment regarding plastic can be found by the massive move across the country to eliminate plastic straws. Plastic is bad for the planet, and consumers are looking for alternatives that are eco-friendly and convenient. In the case of straws, consumers are willing to go without instead of using plastic. Part of this backlash against plastic has led to reusable bags taking up almost a full 10 percent of the promotional products market.
3. Walking Billboards
Bags generate the most impressions and ensure your branding message is seen and internalized not just by your customers who own and use the bags, but also by everyone else who sees the bag in use. Custom grocery bags offer up prime and spacious real estate to make a statement and provide useful information. Different bag designs, material options and printing methods can each be carefully selected to coordinate and create a useful and eye-catching marketing tool that leaves a positive and lasting impression.
Design your Own Bags
Factory Direct Promos has been in the custom promotional bag business for almost 30 years. During this time we have built a strong working relationship with our factory. We have learned how to streamline the entire process and simplify things as much as possible for our customers. Designing and ordering custom grocery bags doesn't need to be hard, so when you work with us, it isn't. Make your marketing easier and create your custom grocery bag today!
Tagged