Is Your Company Spending Too Much On Reusable Bags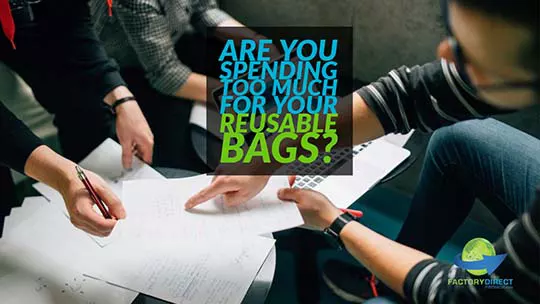 Is Your Company Securing The BEST VALUE on Your Reusable Bags?
You definitely want your marketing efforts to be effective, but you also want to make the most of your marketing budget. Reusable bags are a proven promotional product, but are you spending too much for your reusable bags? It's easy to pay too much, but not when you work directly with the factory. Find out what sets Factory Direct Promos apart from the rest, and how you can always score a great deal on your reusable bags.
Committed to Four R's
Factory Direct Promos is serious about helping the planet through implementing the four R's: reduce, recycle, reuse and recover. Plastic is bad for the planet, particularly single-use plastic bags. With about 14 billion disposable plastic bags used each year in the U.S., we, along with many consumers, have had it with the negative impacts of plastic.
Plastic is bad for the planet, but when managed responsibility we can get the most value from plastic without putting wildlife or ecosystems into harm's way. All of the materials we use for our custom reusable bags are made from recycled or sustainable content. This aligns with our green goals, but it also enables your business to market your brand in an environmentally responsible way that likely appeals to your customers.
Safety
Our reusable bags aren't just green and good for the planet, but they are also safe for you and your customers. We are proud to report compliance with a variety of government and regulatory standards. This means our bags are not just made with eco-friendly materials, but also manufactured in ways that are safe, responsible and ensure a high level of quality.
Work Direct to Score The Best Deal On Your Reusable Bags
We work directly with our factory, which eliminates the layers of distributors and resellers you will encounter when you work with some of our competitors. The problem with all of these additional layers is that the job will take longer and you'll have to pay for everyone's markup. Our direct relationship with our factory eliminates the costly markups, and streamlines the entire process, which also saves time. Whether you place an order for 250 reusable bags, one million reusable bags or more, you will find our prices are low, because we pass our savings along to our customers.
Serve Businesses of All Sizes
Our clients include Home Depot, Trader Joes, Whole Foods and EarthBound Farms. All of these clients appreciate our wide selection of eco-friendly products along with factory-direct pricing and a high standard of quality.
Find a Great Deal
Find out how custom reusable bags can complement your green initiatives and expand the reach of your brand while coming in at a great price. Our skilled team is available at every step on the way. They know how to help you create custom reusable bags that come in at a great price and successfully market your brand. Fill out a quote request or design your reusable bag today!
Tagged