10 Attention Grabbers to Help You Crush Your Next Presentation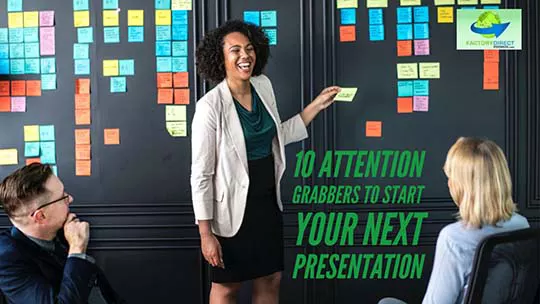 Give Your Presentation The Attention It Deserves
Presentations are a great way to relay information to a small or large group of people, but if not structured to be effective and engaging, presentations can completely fail. A survey conducted by software company, Shufflrr, noted that a quarter of people are likely to walk out of long presentations. Shufflr survey results also show that another quarter of respondents reported having fallen asleep during boring presentations. Find out how one simple trick can set your presentation on the path towards success.
Value of a Strong Introduction
Poor presentation skills cost businesses time and money and are just a waste. However, giving a strong presentation is a valuable skill that can help both employees and entrepreneurs spread their message and make a positive impression.
One of the most important things to do when giving a presentation is to get people's attention right away. The sooner you have your audience's attention, the more likely you are to hold onto it and maintain engagement throughout your entire talk. Here are 10 quotes to start your next presentation with that will help you grab your audience's attention and get your message remembered.
Use These 10 Attention Grabbers and Crush Your Next Presentation
1. "If you know what you want, you can have it."
RH Jarrett
2. "I skate to where the puck is going to be, not where it has been."
Wayne Gretzky
3. "Get action. Do things; be sane; don't fritter away your time; create, act, take a place wherever you are and be someone; get action."
Theodore Roosevelt
4. "You can't look at the competition and say you're going to do it better. You have to look at the competition and say you're going to do it differently."
Steve Jobs
5. "There is only one boss. The customer."
Sam Walton
6. "You have to go wholeheartedly into anything in order to achieve anything worth having."
Frank Lloyd Wright
7. "The secret of getting ahead is getting started."
Mark Twain
8. "Some entrepreneurs think how can I make a lot of money? But a better way is to think how can I make people's lives a lot better? If you get it right, the money will come."
Richard Branson
9. "What would you do if you're not afraid?"
Sheryl Sandberg
10. "Always remember, your focus determines your reality."
George Lucas
Provide Value
The right quote will relate to your industry or the topic you are discussing and immediately catch people's attention. The quote should pique the curiosity of those in attendance and make them want to learn more. It is obviously important to follow up your strong start with valuable content and to continue to provide useful and engaging information. But grabbing the attention of your audience immediately will go a long way in getting your message across and remembered.
At Factory Direct Promos we have been in business creating customized reusable bags and promotional products for almost 30 years. We reinforce the work you do and ensure that people remember your message. Shop our products online and feel free to reach out to us anytime to customize your own reusable bag for your brand now.