Looking for Eco-Friendly Gift Wrapping? We've Got Your Logo Covered!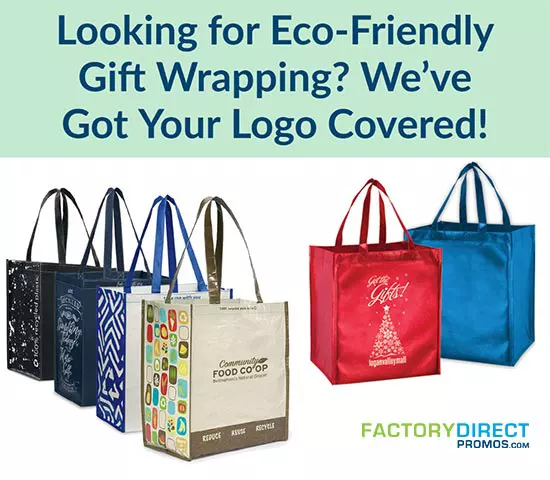 Spread Cheer While Going Green and Promoting Your Brand
Most businesses put a lot of time and thought into their corporate gifts. This makes sense given that the gift speaks to your brand and is a token of appreciation for your customers. Not as much consideration always goes into how to wrap gifts.
The presentation matters and the way you wrap your gift is another opportunity to reinforce your branding message.
We have a solution to your gift wrapping needs. You can use our reusable bags for eco-friendly gift wrapping to leave a good impression while also going green!
Make a Difference with Eco-Friendly Gift Wrapping
Gift bags are nothing new, but instead of using regular gift wrap or gift bags consider creating custom reusable bags that can be used as gift bags. This greatly simplifies wrapping, since items can be placed directly in the bag, but it also reduces trash.
Gift wrap and gift bags commonly end up in the trash or recycling bin.
A custom reusable bag will find a new purpose being used as a grocery bag or for countless other possibilities long after the holidays.
Reducing trash is good for the planet, but it also maintains consistency with any green goals or initiatives established by your brand.
A Gift Within a Gift
It almost starts to not even make sense to wrap your promotional marketing items this year with wrapping paper. Why not gift a reusable bag?
A reusable bag serves two purposes. It serves as wrapping for your promotional gift and a promotional item that is eco-friendly and will serve your prospects, customers, and brand well for years to come.
Studies conducted by Advertising Specialty Insititute (ASI) have indicated that consumers are more likely to do business with a brand that has given them an eco-friendly promotional item like a reusable bag.
The bag is a regular reminder of your business and under regular use will likely last for several years. Your brand will receive exposure for that time!
Custom reusable bags are really good at reinforcing your branding message with your customers, but they will also help spread your branding message to a wider audience.
As your customers use your branded bag, they will put your message on display for everyone they encounter.
Order Your Way
We offer two ways to order, so you can find the way that best fits your brand's needs.
Our in-stock selection of reusable bags are pre-assembled and ready to go. Send us your custom artwork and we can print it on your bag for you. This option is ideal if you need your bags quickly or if you only need a small quantity.
If you take advantage of our custom/bulk ordering, then your bags will be made to order at our factory. You can still select from any of our existing bag designs or customize the design of your bag. You can add pockets or closure, adjust the handle length or do anything else to customize the design of the bag, and fit your vision.
Another advantage of your custom reusable bags being made to order is you can secure great bulk pricing.
If you need a large quantity you can save money by ordering in bulk.
Our custom/bulk ordering is a great way to create something unique and totally customized for your brand while also enjoying an excellent return on investment (ROI).
Spread Your Message
We have been helping our customers create completely custom reusable bags for over 10 years.
Some of the amazing customers we have worked with include Carnival Cruise Lines, Whole Foods, American Express, The Home Depot, Pepsi, Bank of America, and so many more.
We hold ISO certification and we strongly believe in under-promising and over-delivering.
If you are looking for an eco-friendly gift wrapping solution for your corporate holiday gift then we have you covered. Check out our lineup for custom reusable bags to find the right bag for your gift!
Tagged