Latest News on Plastic Bag Bans in the United States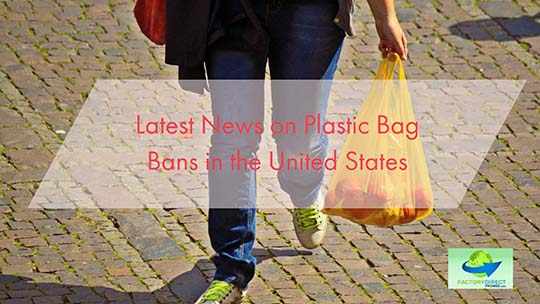 Diverse Developments in the Plastic Bag Ban Movement
Efforts to pass plastic bag bans are picking up all across the country while in some areas officials are attempting to thwart those efforts. We decided to take a look at the current state of plastic bag bans in the U.S. and what we found is intriguing. While the bag ban movement is gaining ground in some areas it is struggling in others. Learn more about the movement and check out our plastic bag bans map to get the full story.
Plastic Bag Ban Movement Going Strong in Massachusetts
A statewide plastic bag ban is still working its way through the Massachusetts government while Boston's plastic bag ban is all set for its December 2018 debut. Plastic bag bans are still sweeping through the Bay State. Arlington's ban became effective on March 1, 2018 and Westford passed a ban that will go into action in January 2019.
Officials in Cohasset are reviewing the environmental impact of plastic bags and considering the possibility of a ban, while a proposal in Auburn has been met with resistance by local business owners. In June, voters in Orange will decide if they want to implement a plastic bag ban.
Park City Ban May Be Overturned
Park City first took up efforts to pass a plastic bag ban in 2013, but to no avail. Fast forward to May 2017 and the ban was passed in a unanimous vote by the city council. Park City's ban went into action one month later. More recently some state officials in Utah have taken a stand against plastic bag bans and fees.
A statewide proposal to levy a 10-cent fee on disposable plastic bags was rejected, while a measure to prevent cities from passing laws regulating bags has advanced. The statewide law has to receive additional approvals before becoming effective. It is possible the legislature may overturn Park City's ban.
South Carolina Cities Joining the Movement
Early in the year all of the South Carolina towns in Beaufort County passed their own plastic bag bans. While each city has their own ban they all worked together to pass similar measures to make things easier for residents and visitors.
Horry County officials are considering their own ban in response to a near-capacity landfill and restrictions passed in China that limit the trash they will buy for recycling. A statewide proposal in South Carolina would prevent municipalities from passing plastic bag bans. Horry County officials plan to reach out to the Senate to explain the financial difficulties the county and taxpayers will face by not banning plastic bags. Meanwhile, a bag ban in Mount Pleasant has met no resistance and is likely to pass in the coming weeks.
Stay in the Know
We will continue to track the plastic bag ban movement and update our map with the success stories and the near misses. Make sure you never miss an update, sale or other green news by signing up for our green newsletter.