How to Select the Best Wine Bag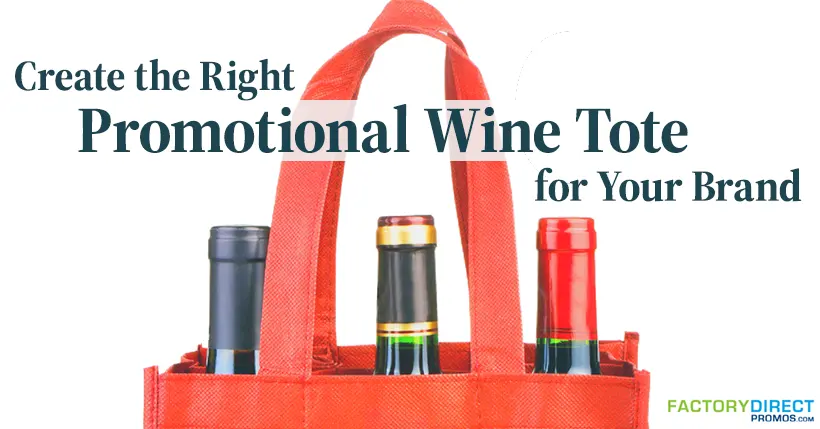 Wine bottles are delicate, and carrying bottles can be tricky, but the correct bag makes a difference. Reusable wine bags are constructed to carry single or multiple wine bottles safely and easily. If that isn't enough, these bags can also be customized to feature your branding info. You have plenty of choices when designing your custom wine bag, but we're here to help.
Versatile Uses
Custom wine bags make it easy for your customers to carry bottles home from your winery and make excellent gift bags. Wine is a great host or housewarming gift, but wrapping the irregular-shaped bottles can be challenging. Gift bags are an easy solution, but disposable bags are not very durable, while reusable can handle regular use and are eco-friendly.
Simple Design
Wine bags are a simple concept. Tall, narrow bags can easily accommodate a wine bottle, but there is more to consider. It's essential to find a bag with quality construction. Reinforced handles can easily support the weight of the bottles, while a boarded bottom evenly distributes the weight for easy carrying. Large bags can hold up to 6 bottles, while separate compartments keep each bottle secure.
Material Options
Woven and nonwoven polypropylene and RPET materials are all made from recycled content, making them environmentally friendly. These bags are constructed to last under regular use but can be recycled when worn out.
Additional Features
The ability to hold and easily carry wine bottles is convenient, but you can further customize the design to make the bags handier and more useful. Add pockets to the front, so users can store a corkscrew or a card when giving wine as a gift.
Represent Your Brand
Select a material color that coordinates with your company colors and submit custom artwork, and we can create custom wine bags that showcase your brand. Promotional products are constant reminders of your business, so getting custom bags into your customer's hands will ensure they think about and remember your winery. As your customers carry your branded wine bags, they will promote your brand and help get your branding message noticed.
Promote Your Winery
Are you ready to create your next custom reusable wine bag? Or do you have questions about selecting the right tote bag for your brand? We have worked with many industry leaders, including American Express, Bank of America, Carnival Cruise Lines, Pepsi, The Home Depot, Whole Foods, and more. We want to help you, too.
Call us with questions at 866-222-0949 or get your customized quote on any of our reusable items for marketing and retail use.