How to Reach Customers through Slogans and Branding Messages on Reusable Bags
Let Your Custom Reusable Bags Do the Talking
It would be great if you could start a conversation with your customers right? What would it be worth to your brand if you could sit down with prospects and customers and talk about what your company believes in and what you are doing to create a better product or to provide superior service?  And what if you could outline your environmental goals and the steps you are taking to reach those goals? Wouldn't that be great marketing?  While it impossible even with social media, to chat with all of your prospects and customers, you most certainly can create promotional customized bags that will start and carry the conversation for you…and that is priceless.
What Will Your Promotional Bag Say?
Since you are not able to speak to all of your clients and prospects, let your promotional bags do the talking for you. The beauty of customizing a reusable bag is that you can make your promotional bag "say" exactly what you want it to say. Print a logo or slogan on the front or the flap closure so every time your clients see that bag, they will be reminded of your message.  Plus, everyone they encounter while carrying your branded bag will also be able to read your slogan and know who you are and what you are about.
Include your web address so folks can navigate to your website and learn more about your brand and your product or service. Reusable bags are a great way to mark the launch of a new product or to drum up interest and create a buzz for a future release. Consider coming out with a new design every quarter or every 6 months to keep people engaged with your branding message.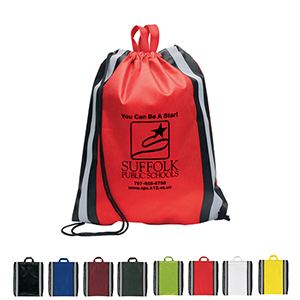 It's all in the Details
Remember to keep slogans brief and catchy on your custom promotional bags . People are constantly bombarded with advertising messages and they may not have the time or attention span to read a lengthy slogan. Also remember that when customers carry your reusable bag it is kind of like a mobile billboard and other people who pass them on the sidewalk or while out and about may only see your bag for a moment – so make that moment count by clearly and concisely conveying and displaying your message.
Give careful thought to the colors of your bag and the ink color your branding message is printed in. There needs to be enough contrast between these colors that your message pops and is visible. Also make sure the font you decide to go with is clearly readable. No matter how clever and awesome your slogan is, if people cannot easily read it you will not get through to existing and potential customers/
Custom promotional bags can speak volumes and allow you to effectively reach customers. Imprinting a reusable bag with a slogan not only gets your message in your customer's hands, but remember, your customers will also display the message when they carry the bag. There is nothing wrong with just printing your logo and maybe your organization's name on a custom promotional bag, but utilizing a slogan gives the bag some personality and adds dimension to your brand. Customers will learn more about your brand through a slogan and they will develop more of a relationship and connection to your company.
Let our design department help you make the perfect custom promotional trade show bags for your brand and let your message speak for itself . You can get in touch with Factory Direct Promos online or by phone at (866) 222-0949, and we will get started today creating your perfect promotional bag and custom message.