Empowering Businesses and Consumers to Go Reusable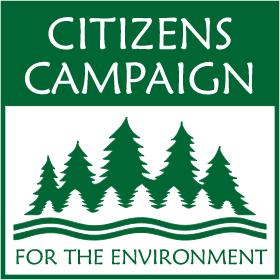 Grassroots Group Aims to Engage the Community and Help the Environment
It's time for our weekly What's In The News Wednesday post and this week we are happy to tell you about the great work that Citizens Campaign for the Environment (CCE) is doing to help both consumers and businesses ban the single-use plastic bag.
This amazing organization was formed in response to a recognized need to provide public involvement to advance stronger environmental policy and they are providing much-needed change and we are proud to highlight them this week.
This not-for-profit group with offices throughout Connecticut and New York has been going strong for 25 years and they seek to educate the public about environmental problems and solutions while encouraging participation in environmental campaigns. Their latest push is helping you and businesses in your community to go reusable.
Promoting the Use of Reusable Shopping Bags and Encouraging the Recycling of Disposable Bags
One of the many causes the CCE has been hard at work on is the education of the public regarding the hazards of disposable plastic bags. Through different outreach programs, CCE has engaged citizens and businesses to reduce the amount of disposable plastic bags that are used.
CCE has also been working with local and state governments to further reduce the use of single-use plastic bags. Disposable plastic bags are not biodegradable, so when these bags end up in a landfill or as litter, they can do some serious harm in terms of posing a safety risk to animals and their habitats and wreaking havoc with the food chain. On their website, CCE encourages their supporters to remember the three R's – reduce their use of single-use plastic bags; reuse and bring their own reusable bags when they shop; and recycle any disposable plastic bags they have.
Bring Your Own Bag Educational Campaign to Reduce Disposable Plastic Bag Use
Along the coastal areas of Long Island and the Hudson Valley CCE has been making strides in the reduction of single-use plastic bags through the Bring Your Own Bag (B.Y.O.B.) campaign. You can check out their progress on our bag ban map. A survey of Long Island Sound residents that was conducted by the B.Y.O.B. campaign uncovered that the primary reason most residents do not use reusable shopping bags is simply that they forget.
To help resolve this issue, CCE worked with local retailers to post signs in their stores and in the parking lots reminding folks to grab their reusable bags. The Westchester County B.Y.O.B. campaign was able to combine forces with over 30 retailers in the county to promote the use of reusable bags and 'Kick the Plastic Bag Habit.' These efforts have greatly reduced the use of disposable plastic bags in these areas and we applaud their work.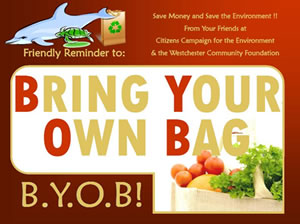 CCE Works to Change Consumer Practices
To help residents make informed decisions, CCE staff members in Westchester County and Long Island have also evaluated grocery stores based on their promotion of reusable shopping bags like these that we offer here on FDP.
Stores were rated on the availability of reusable bags, signage in stores and in parking lots reminding shoppers to bring their reusable bags, monetary incentives offered to customers who use reusable shopping bags, education of staff, and willingness to educate customers on reusable bags.
By ranking stores and giving each store a grade, customers are able to support the businesses that share their values and the businesses are able to identify areas of improvement.
CCE Continues to Work to Empower the Public
CCE saw their hard work pay off in Westchester County when Larchmont and Mamaroneck passed disposable bag bans and on Long Island when East Hampton and Southampton passed laws prohibiting the use of single-use plastic bags. It has been great to see such a positive response to the work they do and it's exciting to see people getting involved in enacting environmental policy. There is still a lot of work to be done and CCE is constantly working and educating and doing its best to help the environment.
We know CCE isn't the only group out there working with us to help educate the public, retailers, and businesses about the hazards of single-use plastic bags. What organizations do you know about, or work with, that are working to ban the bag?  We would love to include them in our weekly What's In The News Wednesday blog post.