Custom Cooler Bags Are a Great Way to Increase Your Brand Recognition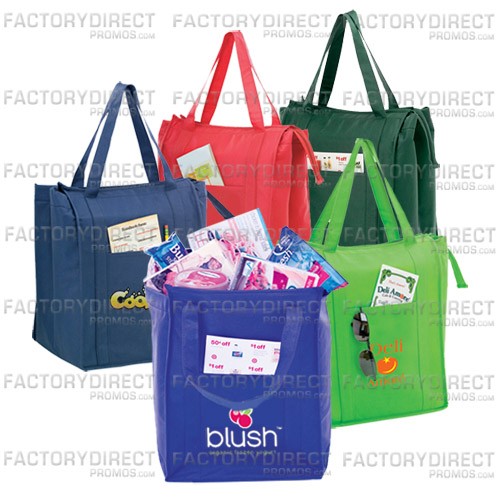 Adaptable Bags Have Many Uses
Cooler bags are so much more versatile than many people may realize. Insulated bags are great for taking on trips and keeping drinks chilled at a party, but you can also leave an insulated custom cooler bag in the car to keep frozen items cold on the drive home from the store or use an insulated bag to keep take-out warm until you get it on the table. A reusable cooler bag is also great for bringing a hot or cold dish to a party or to a potluck. Our reusable cooler bags are soft sided so after cleanup they take up minimal space and easily stow under a seat in your car or in a closet or pantry when not in use.
Think Small
Large cooler bags definitely have a use and there are times you need a big insulated bag to get the job done, but try thinking smaller. An insulated reusable lunch bag emblazoned with your logo is a handy bag that is sure to get a lot of use and it is a much greener option that brown bagging lunch. Smaller insulated bags are also great for taking refreshments and munchies on car trips. A compact bag lets your clients pack up snacks and lunch and will put your branding message on display and increase your brand recognition as the bag is carried to work and left in the office refrigerator.
A smaller lunch bag-sized cooler bag could easily be used several days a week, which is a huge amount of visibility for your brand. If you think a large custom cooler bag is a good fit for your brand by all means go with that option, but consider a smaller insulated bag since this design fills a need and is certain to get a ton of use.
Make Your Vision a Reality
Aside from our stock options we can work with you to create a completely custom reusable cooler bag. Choose the handle style, bag shape and size, the colors of the bag and the printing, as well as the type of closure used to secure the bag. Add a mesh pocket on the side to hold a water bottle or add a pocket on the front to hold utensils and napkins if you decide to go with an insulated lunch bag style. We can print on 4 sides of your cooler bag to help spread the word loud and clear. Custom jobs take a 60 – 90 day turnaround, and given the level of customization available this is really a great deal.
Let us help you create a truly one of a kind customized cooler bag to promote your brand. To get started head over to check out our collection of reusable custom cooler bags.