An Eco-Friendly Funny…Bag Bans and Man's Best Friend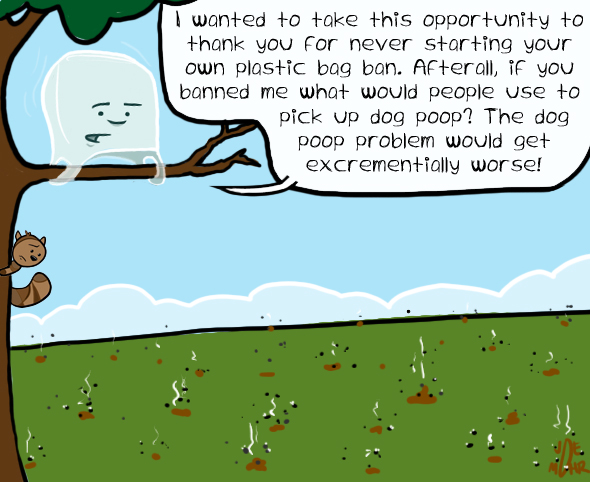 Single Use Plastic Bags, Man's Best Friend, and Bag Bans
We love our friend, Joe Mohr because he has a way of capturing the eco-friendly funny side of life and frankly, we can all use a good laugh.
Disposable Plastic Bags Just Don't Belong in Landfills…No Matter What You Put Inside!
In all seriousness, the only environmentally responsible manner to dispose of single-use plastic bags is recycling, and the bags need to be empty when recycled. Single-use plastic bags are not biodegradable and they will not safely break down – they will essentially clog the landfill and cause the heap to grow larger. When disposable plastic bags are filled with trash and waste and thrown in a landfill, the plastic will even prevent biodegradable items within the bag from breaking down by cutting off exposure to the elements – so folks that bag of dog poop is there to stay. That's not cool. You know your pooch wants to be green too!
Other Options When It Comes to Cleaning Up After Man's Best Friend
Pet waste needs to be picked up and disposed of properly right?  A lot of parks and public areas have outposts that offer environmentally friendly bags that pet owners can use to clean up after their dogs, as well as trash receptacles specifically intended for pet waste. The EPA suggests flushing pet waste and there are flushable bags that allow you to do just that. You can also use paper bags or look into other biodegradable bags that allow you to be a courteous and environmentally responsible pet owner.  Plus, you know if your pooch could talk he would say, "go green or go home."
Share Joe's Eco-Funny
Feel free to spread the giggles and share this eco-friendly cartoon with your friends via social media and link to it from your blogs. Not only will you share the giggles, but you will also share the message to ban the bag.  Thanks, Joe Mohr for creating this funny and thought-provoking cartoon.