3 Ways to Stand Out at Tradeshows, Events and Beyond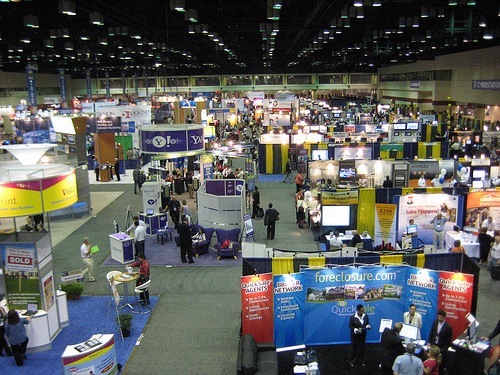 From ATM's to Models, Tradeshow and Event Marketing Tips That Work
Tradeshows are hectic. Typically there are a lot of attendees and a lot of booths to visit with tons of new products and offerings to check out. So the questions becomes, how does your brand catch the attention of prospects?
When you have a booth at a tradeshow, you have a very limited amount of time to make a lasting impression. There are lots of beneficial ways to make an impression at tradeshows from having an ATM at your booth to utilizing models. At Factory Direct promos, we have another tip to utilize to get great ROI at tradeshows – you can stand out by creating memorable and lasting promotional products that will remind your clients and vendors about your brand long after they leave the tradeshow.
Here Are 3 Ways to Make Your Mark at Tradeshows, Events and Beyond
ATM's

So when was the last time you were at a tradeshow and realized you were totally out of cash and had to run around frantically trying to find the nearest ATM? Well guess what? There are many companies out there that will allow you to rent an ATM to place in your booth during tradeshows and you will reap the benefit of those folks, who like you, have been caught without cash on hand. In fact, some exposition companies are now including will include the option to rent an ATM feature in the package for booth rentals so be on the lookout for it in your info package.

Spokesmodels

Although in recent years spokesmodels have sometimes gotten a bad rap for their lack of knowledge on the floor, they do have a place in many instances. There are many companies that can offer professional individuals who can be quickly trained on your company and products although they should not be expected to replace a company representative on the floor, their benefits can outweigh their expense.

Design Your Customized Reusable Product

Choose from customized reusable tradeshow bags, pens, water bottles, flash drives and more to create a one-of-a-kind reusable product that showcases your brand and fills a need for your clientele. Selecting a practical and useful item will ensure it gets used repeatedly, so your branding will be put on display over and over again. The more people see your branding the more familiar it becomes, and this translates into increased recognition and sales. Factory Direct Promos works directly with their factory so there is no middle man and we are able to pass along great pricing to you, allowing you to reap all of these marketing benefits at an amazing price. As an added benefit and talking point, all of our promotional items are eco-friendly.
Utilize Different Tools and See Which Works Best for Your Brand
These are just a few of the ways that you can market your brand at tradeshows and events. Be sure to try other methods like the various apps, booth design enhancements, magicians and more to see what works for your brand. Choosing to market your brand at tradeshows and events with in booth ATM's, spokesmodels, or reusable products will get your booth or event plenty of traffic while building your brand awareness and recognition beyond the event. Remember to never stop looking for new ways to improve your marketing while utilizing the tried and true methods that have stood the test of time because you can bet your competition certainly won't stop.
Photo Source: www.repaz.com, http://www.waterandhealth.org/guide-safe-reusable-grocery-bag/