12 Tips to Managing a Remote Customer Service Team Like A Pro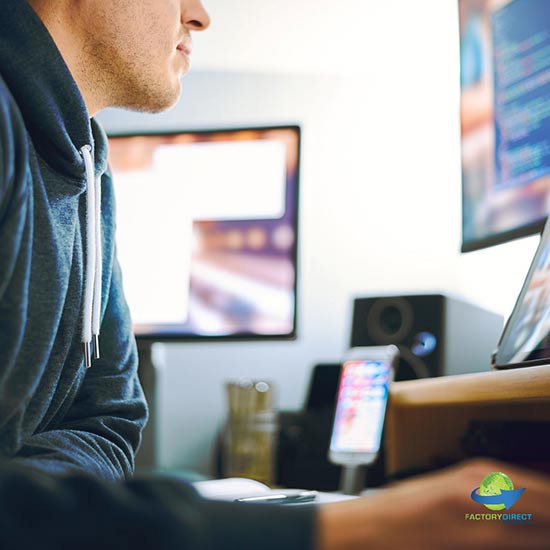 How to Take Care of Business Remotely
Closing down offices and working remotely is an effective way to slow the spread of COVID-19, keep your employees and customers safe, and still keep your business moving forward. Another way to keep your business moving forward is to buy the best reusable shopping bags for retail and marketing. More on that later.
Working from home comes with a unique set of challenges, and keeping your team motivated is certainly one of them. Managers face unique hurdles when managing a team of remote workers, so here are some tips for managing a remote customer service team like a pro.
Learning From Experience
Working from home can be very effective, but it's very different from working in an office environment. These are uniquely challenging times and you may not have anticipated having to move your team to work remotely a few short weeks ago.
However, this is where we are and everyone is adapting as we go. As a manager, you need to set your team up for success. These tips are partly inspired by our own experiences working remotely across our various offices in response to everything from snowstorms to hurricanes.
12 Remote Work Tips
1. Create Care Packages
You can work with us to create a perfect custom-sized reusable bags and we will work with our sister brand Superior Business Solutions to fill it with great promotional gifts for work at home employees.
2. What's In a Motto?
Come up with a motto and you will help to bring your remote team of customer service reps together in a more cohesive group. Print your slogan on promotional apparel or on your customized bags.
3. Use the Right Tools
Visibility is important when your team is working remotely. Project Management software is a great way to ensure everyone has visibility into projects currently in the works, as well as upcoming projects.
4. Create Shared Resources
Collaboration is only possible if everyone can access the same resources. This means all team members will need access to a portal, hub, or some type of cloud storage where all documents are saved and shared.
5. Keep the Lines of Communication Open
Create a directory with the contact info for all employees. This should include emails, phone numbers, and any other relevant contact info for work, like instant messenger or Slack names and social media handles. This ensures everyone is able to get in touch with the necessary team members in order to ask questions and keep projects moving forward.
6. Know Everyone's Schedule
When working in an office, particularly an open office, it's really easy to know when someone is available and at their desk. It's not always easy to know when team members are available when everyone is working remotely. Consider creating a schedule for each employee that indicates when they start work, when they break for lunch and when they are done working for the day. A structured schedule may not work for all businesses and teams, but at the very least encourage employees to indicate when they are on a break or unavailable using instant messenger status updates or other tools.
7. Keep a Routine
Maintaining a routine is important when working from home. There are always going to be distractions, and remote workers face unique distractions like housework and their DVR. A routine minimizes distractions and makes it easy for people to take care of their responsibilities. As a manager, you can help establish a routine by scheduling a daily huddle, regular meetings, and check-ins.
8. Schedule Video Calls
Staying in touch is certainly important to keep a remote team effectively working, but schedule video calls whenever possible for your team. And make sure everyone leaves their cameras on. Seeing people during a meeting will give engagement and interaction a boost.
9. Check-in With Team Members
Make it a point to touch base with all team members. A quick phone call, text, or instant message can help keep team members on task and focused. This is also a great way to identify anyone who needs help, as well as anyone who is able to provide help.
10. Give Credit When It's Due
It's really easy for team members to feel cut off and like they're not part of a team when they are working from home. Make it a point to give positive reinforcement to both individuals and teams. Simply telling someone they did a good job lets them know that they are seen and appreciated and part of something bigger.
11. Create Time to Socialize
Socializing may seem counterintuitive, but taking the time to get to know and stay connected to your fellow team members can help build a strong team. Workplace by Facebook is a great way to keep everyone in touch and provides a space for people to discuss work issues, but also socialize.
12. Solicit Feedback
You can anticipate what your team members need in order to succeed, but ultimately, they'll know better than anyone else what they need to effectively do their job. Make it easy to collect their ideas and suggestions by creating an electronic form they can fill out. A form is a nice option because it can allow employees to remain anonymous if they so choose. Review and implement changes as you deem appropriate.
Let's Get to Work
While getting your team up and running remotely is important, you also need to focus on growing your business and keeping your brand front of mind for your customers. This is where custom reusable bags and other promotional products can be extremely useful. We make the process of creating custom reusable products easy since we've been at it for over 10 years. During this time we have earned several certifications, like GOTS, Fairtrade, ISO 9001, and FEDEX. Many of our bags hold the distinction of being certified reusable bags for added peace of mind.
Our team is working hard to help your remote customer service team! Contact us and ask how we can help you create a connection with your work-at-home- CSR's and even your best clients with customized eco-friendly promotional gifts!