#EcoMonday: 5 extraordinary ways to recycle plastic bottles (Videos)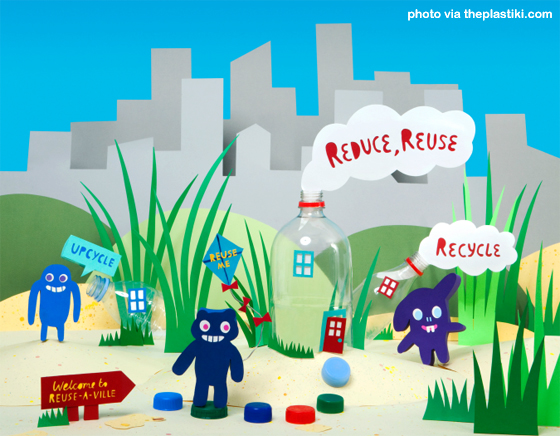 Today we highlight innovators that draw attention to plastic pollution.  While taking action against pollution, these amazing creations educate us that waste can be used as a useful resource through design and construction. When you recycle plastic bottles the plastic can be reused and made into custom reusable bags.
1) The Plastiki – A catamaran made out of 12,500 plastic bottles and other recycled plastic and waste products.
A boat made of plastic bottles arrives in Sydney from San Francisco after nearly four months in sea. The crew is drawing attention to ocean pollution due to plastic waste.

2) The 'Recycled' school
With walls made of plastic bottles, cow dung plastering interiors, roofs of bamboos and straws and pipes for ventilators, the Aman Setu Primary School on the outskirts of Pune in Wagholi is a school literally made out of waste materials of all kinds.

3) Recycled plastic bottles turned into blankets for the needy
Tzu Chi Foundation recycles plastic bottles to produce textiles for use in disaster relief materials such as blankets and clothing.

4) Sewage Treatment Planter made of Recycled Plastic Bottles
Contained Sewage Treatment planter using recycled plastic bottles
Jamaica Earthship Expedition II Dec 15, 2008 – Jan 9, 2009

5 ) Eco greenhouse made from plastic bottles
In April 2011 Stowford Primary School constructed an Eco-friendly greenhouse made from 1500 plastic bottles collected by the pupils and staff.

Learn more about our company at FactoryDirectPromos.com and connect with us on Facebook and Twitter.