Can PopSockets® Be Recycled?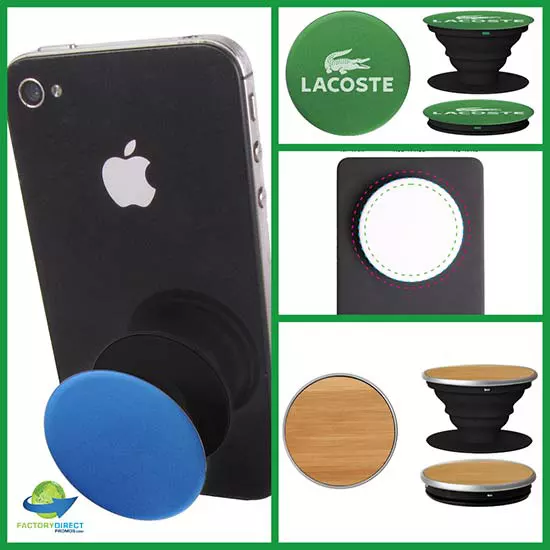 Learn How to Elevate Your Green Marketing
In a major green development, PopSockets® is partnering with TerraCycle to create a recycling program. This is tremendous news because it means less plastic will end up in landfills and will instead find new life and purpose after being recycled. This is also exciting news for your marketing because now you can put custom phone grips to work for your business while minimizing your brand's environmental impact. Find out how to create your own custom pop sockets and how these handy and now eco-friendly phone grips can give your marketing a boost.
Recycling Made Easy
The PopSockets Recycling Program is designed to reduce waste and make better use of existing materials. This program has the goal of recycling more materials than the company creates, and they will accept not only the products and merchandise created by PopSocket but also cases created by other brands. This goal should be easy to meet since the other half of the partnership is TerraCycle. TerraCycle is a leading waste management company that strives to eliminate waste.
Ideal Promotional Item
The objective of any marketing item is to be seen and make an impression. Phone accessories completely fit these requirements and make effective promotional items. PopSockets are expandable phone grips that attach to the back of a phone or case and create an easy-to-grip handle. These grips are also prime marketing tools.
People always have their phones handy, so a custom pop socket will be a constant reminder about your brand to your customers. Pop sockets are also highly visible, particularly when the phone is being held using the grip, so a custom grip can put your branding information on display.
Well-Rounded Marketing Tools
The visibility of a promotional item and the effectiveness of that item to reach a demographic is important. However, the environmental impact is also important. The materials used in the construction and how that item can be handled after it has fulfilled its usefulness reflect back onto your brand.
Items made from recycled content that can then be recycled reduce the environmental impact of your brand. This is clearly good in terms of the impact of your business, but it also sends the right message. Your business is not causing any undue harm, you are serious about important issues, and you are willing to do the right thing.
Custom Promotional Products
We have made custom pop sockets for our trade shows in the past and they have been a tremendous hit and always draw a lot of traffic to the booth. They are a fantastic promotional item and now are eco-friendly! We can help you create customized options that are totally personalized to your brand, business, or organization.
Let's Make This Happen
We have been in the business of creating eco-friendly, custom promotional products for over 10 years. We are American owned and we are based in the USA. We work directly with our factory in China, which enables us to create completely unique and custom products in a quick and cost-effective manner. Interested in what we can do for you? Find out more about Factory Direct Promos.
Tagged