10 Quotes to Keep Your WFH Marketing Team Engaged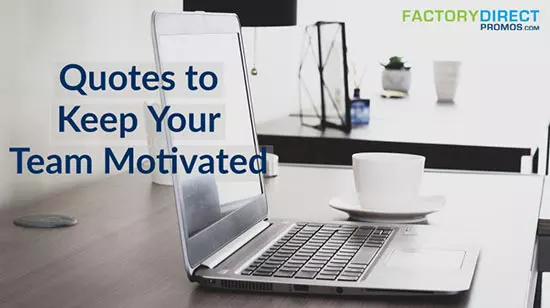 Stay Motivated and Take Care of Business
Working from home certainly comes with many pros and cons. While we've all learned how to navigate remote work, it can still be challenging to feel connected. Making sure members of your marketing team feel like they are involved and part of a team is important.
We find that sometimes the right words can offer insight and inspiration. We have rounded up 10 quotes to keep your WFH marketing team engaged.
Plus, we have a great tip to further help get your team excited and engaged.
Inspiring Quotes
1. "The greatest asset of a company is its people."
Jorge Paulo Lemann
2. "Take time to appreciate employees and they will reciprocate in a thousand ways."
Bob Nelson
3. "Even when I worked in an office, I would often bring work home with me. When I started working remotely, it was just a recipe for disaster. Over time, I've found two things to be very important. This is a bit cliche and everybody says this but it's really true: Rest is very important. And time off is very important."
Gonçalo Silva, Doist
4. "Whether you think you can or think you can't, you're right."
Henry Ford
5. "If you want to build a ship, don't drum up people to collect wood and don't assign them tasks and work, but rather teach them to long for the endless immensity of the sea."
Kim Malone Scott, Radical Candor: Be a Kick-Ass Boss Without Losing Your Humanity
6. "You will never find time for anything. If you want time, you must make it."
Charles Buxton
7. "We like to give people the freedom to work where they want, safe in the knowledge that they have the drive and expertise to perform excellently, whether they [are] at their desk or in their kitchen. Yours truly has never worked out of an office, and never will."
Richard Branson, Founder and Chairman of Virgin
8. "To win in the marketplace you must first win in the workplace."
Doug Conant
9. "Your time is limited, so don't waste it living someone else's life. Don't be trapped by dogma – which is living with the results of other people's thinking. Don't let the noise of others' opinions drown out your own inner voice. And most important, have the courage to follow your heart and intuition."
Steve Jobs
10. "Everyone wants to be appreciated, so if you appreciate someone, don't keep it a secret."
Mary Kay Ash
Show Your Appreciation
In keeping with #10, show your WFH employees that you appreciate them! Keep WFH employees engaged with your brand by gifting them with custom branded eco-friendly promotional items.
From eco-friendly branded drinkware to reusable shopping bags you can create something they are sure to love that will reinforce your message and keep them engaged with your team and brand.
Easy to Customize
We understand you're busy, so we make the entire process of creating custom promotional products easy.
We offer two ways to order and since we work directly with our factory, we're able to streamline the process, saving you time and money.
We've worked with many leading brands, including American Express, Bank of America, Carnival Cruise Lines, Pepsi, The Home Depot, Whole Foods, and more and we're excited to help you, too!
Shop our eco-friendly promotional products on our site and use the forms on the site to request your customized quote today!