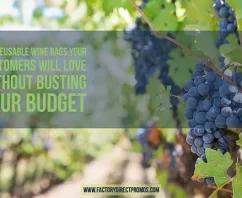 The wine you create is a labor of love. The bags you offer to your customers to carry your wine home or to friends and family gatherings should be a reflection of your work and work to effectively market your winery.
Reusable wine bags are fantastic marketing tools for wineries because they not only are utilitarian, they also work to spread your branding message, deliver a great ROI, and help reduce plastic pollution on our planet.
Since you have a special product, the wine you work so hard to perfect, you should give your customers a perfect bag in which to carry your bottled wine. Here's how to create completely custom reusable wine bags that your customers will love and use again and again.