Special Pricing on Liquid Sanitizer for COVID-19 from Our Sister Brand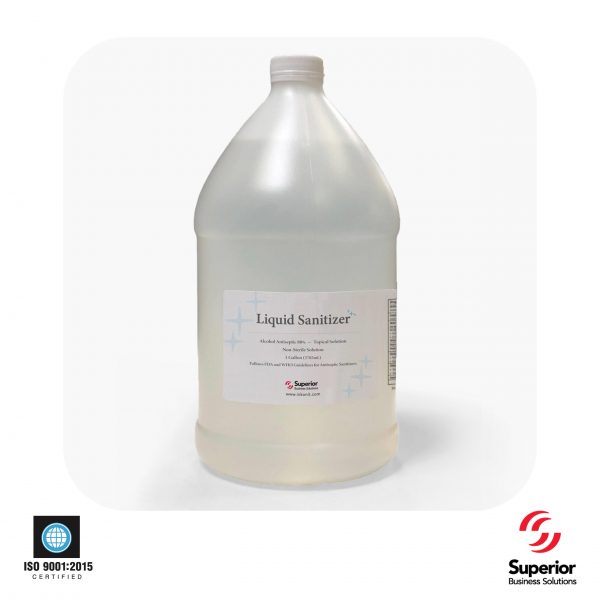 Keep Your Employees and Customers Safe
As essential businesses continue to operate and are being joined by more businesses opening back up, there is an increased demand for sanitizer and other PPE equipment. Our sister brand has what your organization needs and we had to let you know.
The pricing is incredible and of course, their service is second to none. Superior Business Solutions provides a variety of PPE for COVID-19 to help your business. Superior Business Solutions also has liquid sanitizer available. Find out how to secure great pricing on liquid sanitizer for COVID-19 from our sister brand.
Effective at Stopping the Spread of COVID-19
We all know the importance of keeping your hands clean to stay healthy and stop the spread of illness. This requires routinely washing your hands. However, washing your hands with soap and water is not always an option. This is why hand sanitizer is so helpful. It makes it possible to clean your hands wherever you are and at any time.
The hand sanitizer from Superior Business Solutions is 80% alcohol antiseptic. For reference, the CDC recommends using sanitizer that is at least 60% alcohol antiseptic. The higher the number, the more effective the sanitizer is at killing germs, bacteria, and viruses. This sanitizer is also fragrance-free and quick drying for added convenience.
Versatile Uses
Liquid sanitizer is certainly good to use to clean your hands. But it can also be sprayed on most hard surfaces to effectively kill a variety of germs and bacteria. This enables you to use one product to clean both your hands and commonly touched surfaces and items, like doorknobs, countertops, and pens.
Stock Up
This liquid sanitizer is sold in one-gallon jugs and in cases. This sanitizer is even available in industrial-sized quantities of 275 or 330 gallon totes with metal cage and tanker-truck sized shipments. This makes it easy to buy the right amount for your business. The gallon jugs can be placed throughout your business for employee and customer use. You can also use the larger jugs to fill smaller containers if that better accommodates your business.
* 1 case $29/gallon
* 4 cases $28/gallon
* 10 cases $26/gallon
* 1 skid (27 cases) $24/gallon
* Ask about up-to-the-minute pricing on 275 or 330 gallon totes with metal cage and tanker-truck sized shipments. 
Liquid sanitizer is vital when it comes to stopping the spread of COVID-19. Purchasing large quantities of sanitizer is also an added business expense. The price per gallon goes down as your purchase more cases, making it more cost-effective to stock up. The ability to purchase large quantities for a low price helps your bottom line and will also keep everyone safe.
You WIll LOVE WOrking with Our Sister Brand
Our sister brand, Superior Business Solutions, was founded on efficiency in 1924 and is ISO 9001:2015 certified as well as 4-time winners of the Best of Print and Digital award. We are so proud of the work they are doing to make liquid sanitizer and other PPE equipment more readily available.
Contact Superior Business Solutions for this great deal on liquid sanitizer and PPE your business needs to fight COVID-19.
Tagged